Masterminds
(1997)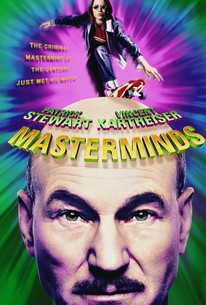 Movie Info
A taut and clever thriller aimed at teen audiences, Masterminds follows a battle of wits between a villainous security systems expert who takes the students of an exclusive school hostage in exchange for half billion dollars, and an adolescent computer hacker who is hiding in the basement.
Critic Reviews for Masterminds
Audience Reviews for Masterminds
I love this movie. This movie is not a type of movie you should take seriously, because it is not Oscar winning. What this movie is, is a fun adventure that will entertain you. I watched this movie as a kid and today I still love it. Unfortunately, this movie was never released to dvd, so I watch it on my vhs player I still own because movies like this will not be released again. I believe this movie to be a hidden gem. Yes it has flaws but what movie doesn't? I get excited when I find another person who has seen this movie because I believe it to become lost in movie culture.
Jessica Roehm
A juvenile thriller about a boy who must rescue his sister and her classmates from the likes of criminals who are holding them for ransom. It's not exactly mind-blowing, but I thought it was OK. (First and only viewing - 8/11/2014)
Adam R
Masterminds Quotes
There are no approved quotes yet for this movie.
Discussion Forum
Discuss Masterminds on our Movie forum!