MC5: A True Testimonial
(2002)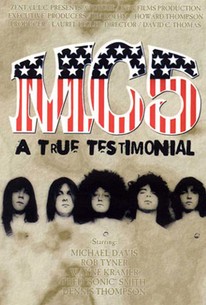 Movie Info
While the late '60s were an era which produced a large number of eclectic and influential rock & roll bands, few were as revolutionary in both their music and there message as the MC5. Formed in late 1964 by five high-school buddies from suburban Detroit, the MC5 -- vocalist Rob Tyner, guitarists Fred "Sonic" Smith and Wayne Kramer, bassist Michael Davis, and drummer Dennis Thompson -- started out as a fairly typical Midwestern garage band, but as the group embraced the passion of blues and R&B, the sonic wanderlust of free jazz and psychedelia, and the muscular power of hard rock, it evolved into an uncommonly adventurous act who became the standard for other Detroit "high-energy" bands to follow. Managed by poet and political activist John Sinclair, the MC5 also became the "house band" of the radical leftist group the White Panther Party, and was a fixture at political rallies in the Midwest, even after Sinclair was sentenced to ten years in prison for possession of marijuana. The band was a cause célèbre and a major draw in the Midwest, scoring a contract with a major record label and becoming the only rock group to play at the protest rallies staged during the 1968 Chicago Democratic Convention. But soon the bandmembers found themselves on the outs with both the straight-laced music industry and revolutionaries who questioned their political commitment; drug problems, poor record sales, and infighting began dogging the group, and the MC5 soon faced a collapse whose humiliation outweighed the glory of their salad days. The band's legacy, however, never failed to impress music fans, and its example proved massively influential with the punk rock movement that bloomed a few years after the group crashed and burned in 1972. MC5: A True Testimonial is a feature-length documentary on the group and its legacy, featuring interviews with surviving members Kramer, Davis, and Thompson, former manager Sinclair, and many friends and family members, as well as footage of the group in its prime (including FBI surveillance film of the 1968 Chicago Convention performance).
Critic Reviews for MC5: A True Testimonial
Audience Reviews for MC5: A True Testimonial
This rocks so hard! Def one of the best music movies I've ever seen. Kick out the JAMs Motherfucker! This has yet to see release - held up in legal (Not unlike Parsnip) But hey, I saw it...
Bob Stinson
Super Reviewer
This was really great. A different view on hippie revolutionary lifestyle a lot of America didn't see. Live performances provided by F.B.I. Surveillance were some of the best ever recorded on any band. Finally, a documentary showing a better understanding and great insight to the controversial band that changed rock and roll. The sooner they quit delaying the release, the better for everyone. Required viewing for all fans of music.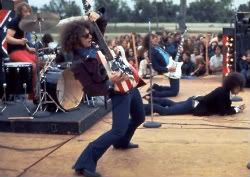 El Hombre Invisible
Super Reviewer
MC5: A True Testimonial Quotes
There are no approved quotes yet for this movie.