Men on the Bridge
(2012)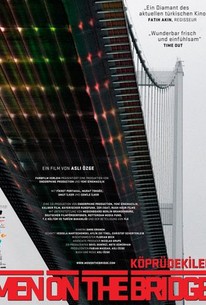 Movie Info
Three men with little in common share something as their work leads them down the same path day after day in this drama from Turkish filmmaker Asli Ozge. Fikret (Fikret Portakal) is in his late teens and spends most of his days on the Bosphorus Bridge in Istanbul, which links Asia to Europe. Fikret earns a meager living selling flowers to people crossing the bridge; Fikret would like steadier work, preferably something indoors, but his inexperience and lack of direction keep him from doing better. Umut (Umut Ilker), meanwhile, is a cab driver who ferries passengers around the city and across the bridge. Umut makes a decent living, but it's not enough for his wife Cemile (Cemile Ilker), who wants a better apartment and a more glamorous lifestyle than he can manage. And Murat (Murat Tokgoz) is a police officer who helps with traffic on the bridge. Murat is happy enough with his work, but he's dissatisfied with his personal life; he wants to meet a good woman and settle down, and spends much of his spare time looking at dating sites on the internet. Featuring a largely non-professional cast, Koprudekiler (aka Men On The Bridge) was an official selection at the 2009 BFI London Film Festival.
Critic Reviews for Men on the Bridge
Audience Reviews
There are no featured reviews for Men on the Bridge at this time.
Men on the Bridge Quotes
There are no approved quotes yet for this movie.