Mercy
(2010)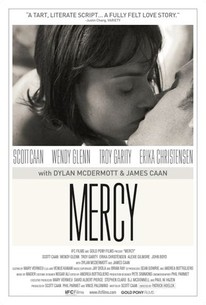 Movie Info
A cynical novelist enters into an affair with the critic who isn't fooled by his romantic posturing in this romantic drama starring and written by Scott Caan. John (Caan) may write about being in love, but the truth of the matter is that he's never actually experienced it firsthand, and he's not entirely convinced that it even exists. He's a certified bachelor committed to remaining single, but he's also a master seducer capable of bedding practically any woman he wants. When John meets Mercy, he's instantly captivated by her insight and honesty. She sees right through his insincere sentimentality, and as a result John impulsively opens up to her -- something that he's never done with another woman. In doing so John makes himself vulnerable, and for the first time ever he's willing to take that risk. ~ Jason Buchanan, Rovi
News & Interviews for Mercy
Audience Reviews for Mercy
½
Where it loses points is in the rather cheesy fate that befalls one of heroes in the end - most people would see it coming all the way, and in retrospect, I did, too, I just kind of forgot about it. Where it gains points is in the incredibly human and believable story it tells: it's a tautly-written and well-paced story of ill-fated love that sweeps you up and holds you tightly in its grasp. In all, it's Scott Caan's best crack at a contemporary Clint Eastwood film, and it tells a well-acted little story about a volatile writer and the fragility of all that we love in life. It didn't quite dig deeply enough into the central couple's conflicting vocations - author and book reviewer - but as a study of its central character, I really enjoyed it.
Daniel Perry
Super Reviewer
½
In "Mercy," Johnny(Scott Caan, who also wrote and produced) wakes up alone in his bed after another wild night of frenzied sex, only to listen to his friend Erik(John Byrd) complaining about the sad state of his love life. That night at the book party for his latest novel, Chris(Alexie Gilmore) bets him that he cannot seduce a cute waitress(Whitney Able). To be honest, he might have been able to, if he had not been distracted by Mercy(Wendy Glenn). As later informed by his agent Jake(Dylan McDermott), his book would have been unanimously praised if not for the review written by Mercy who had no mercy. "Mercy" is a frustrating near miss of a movie and Scott Caan deserves the praise and blame for that. He is a very good actor who makes the new and not necessarily improved "Hawaii Five-O"(where he also plays a character who has a thing for tall English women) much better than it has a right to be and is excellent in "Mercy."(As long as I am in this part of the critical woods, I also recommend "Dallas 362.") But as a writer, he does not fare as well. The story flows smoothly until it reaches a point where it does not know what else to do except get unnecessarily tricky and play the largest cliche in the deck, dragging it out in excruciating fashion. It is a shame because there are some interesting thoughts here on the differences between a public persona and the private person, with the perils of judging harshly. I'll excuse the fact that the lead character is a writer since he uses a manual typewriter but remember critics are people and writers, too.
½
Scott Caan does a good enough job writing, producing, and acting in this emotional drama. The film loses steam progressively throughout the first three-fourths of the film, but the shocking end is completely worth the exposition. Didn't quite live up to expectations, but still a nicely done piece.
Christopher Haskell
Super Reviewer
Mercy Quotes
There are no approved quotes yet for this movie.