Merry Christmas, Mr. Lawrence
(1983)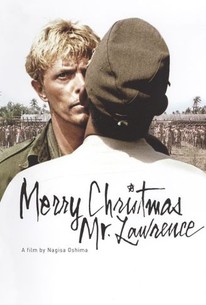 Merry Christmas, Mr. Lawrence Photos
Movie Info
Merry Christmas, Mr. Lawrence was the first English-language project of Japanese director Nagisa Oshima (Death by Hanging, In the Realm of the Senses). In tune with his previous filmic essays on racism and brutality, Merry Christmas concentrates on a war of wills between rebellious POW Major Jack Celliers (David Bowie) and camp commandant Captain Yonoi (Ryuichi Sakomoto). Assuming that his other prisoners' unwillingness to protest their cruel treatment is a sign of weakness, Yonoi is most impressed by Celliers' enigmatic defiance. While Celliers and Yonoi seem to be operating on a high spiritual and intellectual plane, bilingual prisoner Colonel John Lawrence (Tom Conti) (the "Mr. Lawrence" of the title) engages in a more standard adversarial relationship with sadistic Sergeant Gengo Hara (Takeshi Kitano).
People Who Like this movie also like
Critic Reviews for Merry Christmas, Mr. Lawrence
Audience Reviews for Merry Christmas, Mr. Lawrence
½
Oddly scripted but intriguing. It's difficult to deny the presence of homoerotic undertones here, making this a most unconventional war film.
Randy Tippy
Super Reviewer
½
weird film. i think bowie may have been miscast, tho he does as well as could be expected. tom conti is kind of annoying with his perfect preachy character. the synthy soundtrack is good but kind of dated. +3 for beat takeshi in his first dramatic role
Stella Dallas
Super Reviewer
An interesting and very serious subject, but the characters spend most of their time sitting around talking, which gets really boring after a while. Plus, I'm not sure Bowie was the right person for the role, not that he can't act, I just think a more experienced dramatic actor would have been better. Overall, it's okay.
Merry Christmas, Mr. Lawrence Quotes
There are no approved quotes yet for this movie.