Meskada
(2010)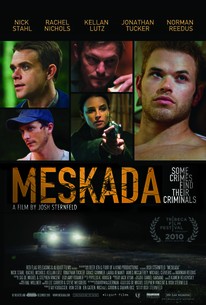 Movie Info
Meskada follows a small-town detective named Noah Cordin as he struggles to solve the brutal murder of a boy in the peaceful, affluent town of Hilliard. The killers left behind no clues at the crime scene, with the exception of a scrap of paper leading Cordin back to his hometown of Caswell. Here, Cordin and county detective Leslie Spencer consult with Cordin's old friends, all of whom are suffering from the economic troubles that have plunged Caswell into near destitution. As their search fails to turn up a suspect, feverish tensions rise between the towns of Hilliard and Caswell, until the film reaches its shocking climax. Meskada captures a snapshot of quintessential American small-town life. The story calls to mind our nation's history, the brutal clashes over land and territory, the class-divides and the improbable victories for equal opportunity. Meskada portrays a vivid picture of the rift between characters in two towns, people bound by loyalty, family, community, and a battle born of circumstances beyond their control. -- (C) Official Site
Critic Reviews for Meskada
Audience Reviews for Meskada
Great movie. I watched it because I'm a huge fan of Stahl and Tucker. Sucks that Tucker received 4th billing after a 'Twilight' actor. Tucker, with his list of acting credentials, definitely deserved 3rd billing. At least.
Scott Flowers
An indie cop drama with nice performances by the B-list cast of actors. The pacing is a bit slow, and there isn't much suspense as you see who perpetrated the murder from the beginning. The tension comes in from the lead investigator returning to the "other side of the tracks" where he grew up in order to find the killer. Likable enough.
Don Schick
An slow-moving indie drama that starts off as a typical small-town crime story but quickly becomes more complex. I liked the deliberate pace of the movie, and how the director lets the story unfold without gimmicks or over the top drama. The narrative is uneven at times as it's complex enough for an inexperience director to pull off, but he manages to keep it on track, and while the acting is uneven as well, especially from unknown supporting cast, it doesn't stop it from being an engaging movie.
Gabriel Knight
Meskada Quotes
There are no approved quotes yet for this movie.
Discussion Forum
Discuss Meskada on our Movie forum!