Meskada
(2010)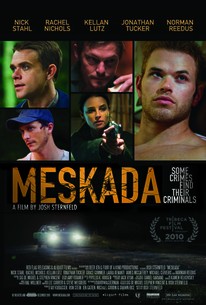 Movie Info
Meskada follows a small-town detective named Noah Cordin as he struggles to solve the brutal murder of a boy in the peaceful, affluent town of Hilliard. The killers left behind no clues at the crime scene, with the exception of a scrap of paper leading Cordin back to his hometown of Caswell. Here, Cordin and county detective Leslie Spencer consult with Cordin's old friends, all of whom are suffering from the economic troubles that have plunged Caswell into near destitution. As their search fails to turn up a suspect, feverish tensions rise between the towns of Hilliard and Caswell, until the film reaches its shocking climax. Meskada captures a snapshot of quintessential American small-town life. The story calls to mind our nation's history, the brutal clashes over land and territory, the class-divides and the improbable victories for equal opportunity. Meskada portrays a vivid picture of the rift between characters in two towns, people bound by loyalty, family, community, and a battle born of circumstances beyond their control. -- (C) Official Site
Critic Reviews for Meskada
Audience Reviews for Meskada
Meskada is another direct-to-video feature I knew nothing about ahead of time. I choose it because the story sounded interesting and I love the cast. In these cases, the film is usually hit or miss, with no in-between. In the case of Meskada, it's definitely a hit! The story follows a local detective, investigating the death of a child, during a home invasion. What makes Meskada different from the rest is that 15 minutes into the film, you know who did it and why, it's not a mystery. Nick Stahl who I usually don't like and Jonathan Tucker who I've always liked are both fantastic in this film. It's roles that neither is really used to playing and both stepped up to the challenge. The story wasn't all that strong, but the acting was, and what I really liked about this film is how it came at a common story in an unconventional way. It's defiantly worth checking out!
Todd Smith
Super Reviewer
Meskada Quotes
There are no approved quotes yet for this movie.
Discussion Forum
Discuss Meskada on our Movie forum!