Metal: A Headbanger's Journey
(2005)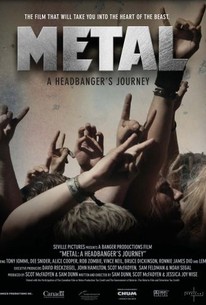 TOMATOMETER
AUDIENCE SCORE
Critic Consensus: Made by a metalhead, this documentary of the musical genre both informs and entertains with its range of interviewees.
Metal: A Headbanger's Journey Photos
Movie Info
Sam Dunn is a 30-year-old anthropologist. He's also a lifelong metal fan. After years of studying diverse cultures, Sam turns his academic eye a little closer to home and embarks on an epic journey into the heart of heavy metal. His mission: to figure out why metal music is consistently stereotyped, dismissed and condemned, even while the tribe that loves it stubbornly holds its ground -- spreading the word, keeping the faith and adopting styles and attitudes that go way beyond the music. Sam visits heavy metal landmarks as far flung as L.A.'s Sunset Strip, the dirty streets of Birmingham and the dark forests of Norway. Along the way, the two sides of Sam Dunn -- curious anthropologist and rabid fan -- collide, as Sam explores metal's obsession with sex, religion, violence and death, meets his heroes, and discovers some things about the culture that even he can't defend.
Critic Reviews for Metal: A Headbanger's Journey
Audience Reviews for Metal: A Headbanger's Journey
As a diehard metalhead, I was astounded at how much care that Sam Dunn has given to the genre. He truly gives the respect the genre deserves. Metal: A Headbanger's Journey takes a closer look to the metal genre. In the documentary, Sam Dunn tries to answer one question, "Why is metal so controversial, yet so loved?" The film features terrific interviews done by the legends that forged this incredible genre. Dunn is able to provide solid evidence as to why Metal is dismissed by the mainstream. As a diehard fan of the genre, I was very happy to see my question answered. For over ten years have I asked the same question that Dunn did. After viewing this documentary, I thought to myself, well this genre is an elitist genre, the people who listen to it don't conform to the standards of trendy music of today, thus it makes loving metal that much cooler. Just the fact the the trendy MTV crowd misunderstands this epic genre makes me love metal even more. Dunn presents valid arguments to his points and that also shows that him being a metalhead doesn't necessarily make him stupid as the mainstream crowd presents us metalheads to be. Dunn asks intelligent questions, and despite that he's surrounded by his idols, he is extremely professional. One interview kinda pissed me off, the one with Mayhem, the guy was being a really douchbag with the director. Dunn asked him a buinch of questions, and the guy from Mayhem just kept telling him to fuck off. The interview after that was with Ronnie James Dio. Dio as always is kindhearted and he was very kind to the crew. that was one of my favorite interviews. Dio was the man, and always will be. Dunn has done a terrific with assembling a collection of great interviews, one of the best is Dee Snider talking about the PMRC censorship of metal bands. Snider proved that metal musicians are intelligent, and not some stupid uneducated people. Other worthy interviews are with Alice Cooper, Tom Araya, Kerry King and Tony Iommi. Metal: A Headbanger's Journey is terrific music documentary, it answers many questions and gives true respect to this misunderstood genre of music. One of the reasons that this documentary works so well is that it was made by fans for fans. One phenomenal Journey for metal fans everywhere. The appeal of Metal music has lasted longer than many careers of pop stars of today, in many ways the genre is still young, as it continues to reinvent itself and be relevant with today's times. Watch out Lady Gaga and Justin Bieber, METAL IS HERE TO STAY!!!
½
This is one of my favorite documentaries, not only because I'm a metalhead myself, but because it gives true insight into a large global cultural movement. That this movie was helmed by an anthropologist metalhead increased this full perspective of its subjects. Sam Dunn asks intelligent questions of the "heroes and gods of metal" so that even diehard fans will gain some insight on the art form. Dunn's talent at interviewing also creates some very compelling and full portraits of a spectrum of metal fans themselves. Dunn is also incredibly tactful when dealing with the "bad boys" of metal who just want to curse and fling beer at the camera, or especially the Satanic black metal musicians in Northern Europe (mostly Norway) who advocate violence and have prior committed or advocated terrorist acts of political natures. Overall, Dunn creates a fantastic and extremely informative doc, thorough, and one of the better music docs I have ever seen. This doc works for people completely oblivious to the metal scene as well as the seasoned headbanger. The DVD 2 disc edition is also required to get the best out of this doc. While what had the edited feature stands perfectly on its own and will be enough for some viewers, the extended interviews with metal's legends and revolutionary contemporaries are must-watch for rock fans or musicians. This movie also introduced me to tons of great metal bands I didn't know about and I've also gotten around to listening to legendary bands that have been on my "discographies to digest" list; Right now I am listening to: Hammerfall and Candlemass in the former category, and Rush and Iron Maiden in the latter. \m/,.\m/
_kelly .King
Super Reviewer
½
The first ever documenatry about heavy metal culture, from the point of view of someone who is immersed in it himself. I saw this at the Toronto film festival when it came out and I still love it. It's one of my favorite documentaries, although some of his concluding points kind of came out of the blue.
Emily Armstrong
Super Reviewer
Metal: A Headbanger's Journey Quotes
There are no approved quotes yet for this movie.