Metalhead
(2015)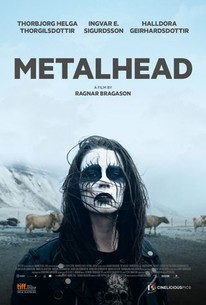 Movie Info
Fueled by a remarkable breakout performance by actress Thora Bjorg Helga, Director Ragnar Bragason's intense drama of loss, faith, redemption, Megadeth and Judas Priest begins with a farming accident in the 1980's that sends a young girl, Hera, and her parents into a tail-spin of grief over the death of her heavy metal music-obsessed older brother. A decade later and Hera is transformed into a sexy, surly headbanger and DIY musician, dressed in black leather and a Slayer t-shirt, clutching her dead brother's electric guitar as she howls anthems of rage to a barn full of cows. Seemingly trapped in a haunted landscape of slaughterhouses and barren winter fields, making all the wrong choices in her life - including coming on to the local priest and sleeping with her platonic best friend - Hera slowly, painfully comes to terms with her family's loss and the sound of her own true voice. (C) Cinelicious
Cast
News & Interviews for Metalhead
Critic Reviews for Metalhead
Audience Reviews for Metalhead
This is spectacular, first rate filmmaking. Full of drive and humour. A real heroine, the girl is powerfully determined to find her own meaning out of tragedy. Victim is not part of her vocabulary. Top acting, direction, cinematography and script. Strong heavy metal images, expertly contrasted with the freezing landscape, the beauty of the girl, and the tenderness of the love and friendship quietly waiting everywhere. The transcendence by the family back into living is perfectly accompanied by the crashing heavy metal. The open hearted boyfriend is a beautiful role. But the arrival of the metal pilgrims must be one of the precious moments of modern cinema. And the music is excellent. When you see the poster of the heroine bestriding the frozen mountain, long straight black hair flying, armed with adventure gear and metal trappings - believe it. Not to be missed.
Metalhead Quotes
There are no approved quotes yet for this movie.
Discussion Forum
Discuss Metalhead on our Movie forum!