Mi-seu-teo Go (Mr. Go)
(2013)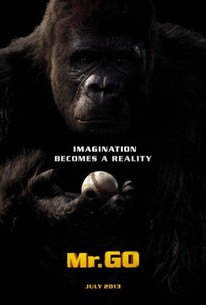 AUDIENCE SCORE
Critic Consensus: No consensus yet.
Mi-seu-teo Go (Mr. Go) Photos
Movie Info
15-year-old circus ringmaster Wei-wei is left all alone with gorilla Ling-ling after her grandfather passes away. Thanks to her grandfather's love for baseball, Ling-ling was trained to play baseball and has developed remarkable hitting skills. The materialistic sports agent Sung Chung-Su hears of this remarkable gorilla, and signs Ling-ling to play in the professional South Korean baseball league. Dreaming of success, the world's first gorilla pinch hitter and his 15-year old trainer begin their run in the Korean Baseball League.
Cast
Critic Reviews for Mi-seu-teo Go (Mr. Go)
There are no critic reviews yet for Mi-seu-teo Go (Mr. Go). Keep checking Rotten Tomatoes for updates!
Audience Reviews for Mi-seu-teo Go (Mr. Go)
This South Korean/Chinese co-production written and directed by Kim Yong-hwa was based on Huh Young-man's 1984 comic The 7th Team, about a gorilla who becomes a baseball superstar and his 15-year-old female manager. Stars Xu Jiao and Sung Dong-il were part of a history making, because Mr. Go was the first South Korean film to be fully shot in 3D. I missed it in the cinemas (South Korea and China released it simultaneously in both countries on July 17 and 18), and when I saw it last night advertised on my cable TV - I decided to watch it. [img] http://upload.wikimedia.org/wikipedia/en/thumb/c/c7/Mr_Go_china_poster.jpg/220px-Mr_Go_china_poster.jpg [/img] First to say that this movie was targeting younger audience, and I would not expect that too many from the older generation would enjoy the same way the teenagers did. The story of a young circus ringmaster Wei Wei was sad nd funny t the same time. She has only bat-swinging gorilla Ling Ling to depend on as her only family member and friend, when her grandfather dies in the Great Sichuan Earthquake. With his death, his insurmountable debt stay, and the loan shark threatens to sell Ling Ling and the circus kids to cover the debt. Wei Wei finds a solution allowing Ling Ling to be scouted in the Korean Baseball League by the materialistic sports agent Sung. Ling Ling, now dubbed "Mr. Go," becomes an instant hit with fans and leads his team Doosan Bears to a miraculous winning streak. But for the film to work, the gorilla had to look like a living creature and Kim decided to shoot entirely in 3D, and of the 2,000 shots in the film, 1,000 are special effects shots of the gorilla Ling Ling. For four years, a team of more than 500 animators and CG professionals led by visual effects director Jung Sung-jin developed motion capture technology, facial motion capture technology and a digital fur production program to make the gorilla as realistic as possible, followed by another year of editing. The images were so precise and delicate that all the 3.8 million hairs on Ling Ling could sway with the wind! With consultant Kim Tae-yong of Rhythm and Hues Studios (famous for its work on Life of Pi), the production team established a new company Dexter Studios (with 180 employees), which created the software Zelos System to process large amounts of data efficiently so that the film cost 10 percent of the budget demanded by most Hollywood movies. Easy viewing, entertaining for the whole family if you just relax and enjoy this light comedy and the amazing CGI supported by the excellent acting.
Mi-seu-teo Go (Mr. Go) Quotes
There are no approved quotes yet for this movie.