Miami Blues
(1990)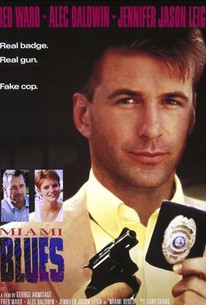 Movie Info
Baldwin is a thief and a murderer who assualts and robs Miami cop Hoke Mosley (Ward). Posing as Mosley, Baldwin causes havok robbing people. Meanwhile Ward, a laughing stock a work, searches for Baldwin to clear his name and get back his false teeth.
People Who Like this movie also like
Critic Reviews for Miami Blues
Audience Reviews for Miami Blues
½
An early Alec Baldwin starring role, and one of his best, this is a very good drama with some elements of a black comedy. Worth seeing for Baldwin's performance at the very least.
Joey Shapiro
Super Reviewer
Early Baldwin which gets an initial knock from me. Quite frankly, I think George Armitage is trying to be Demme and produces something kind of hokey.
John Ballantine
Super Reviewer
It's better after a second viewing, but I wished I had liked this a lot more, after Edgar Wright recommended it. Alec Baldwin gives a great performance as a halfcocked psychopath whose love of life is so strong, mixed up and unscrupulous, he can't help but enjoy breaking fingers, busting jaws, playing cops-and-robbers, shooting people on a gut feeling and answering questions about his preferred vegetables with a pause to think out the words "I don't want to talk about that at this time." The rhythm and humanity of the rest of the movie is not good enough to swing around Baldwin's homicidal urges and primitive faith in carpe diem. Demme produced this after directing Something Wild, where Ray Liotta's character was a lot like Alec Baldwin's here, although less wild-eyed and tilting at windfalls. But the earlier movie wasn't so relativistic about whether squares, suckers and slobs were living life more fully than a violent hoodlum, and about whether violence is just the law of nature that we've grown too soft and decadent to understand.
Adam Mahler
Super Reviewer
Miami Blues Quotes
| | |
| --- | --- |
| Frederick J. "Junior" Frenger: | Everything's turning all orange and silver. |
| | |
| --- | --- |
| Frederick J. "Junior" Frenger: | My problem is that I can have everything and anything that I want, and I don't know what I want. |
| | |
| --- | --- |
| Frederick J. "Junior" Frenger: | This world is a shithole. |