Basement Jack
(2008)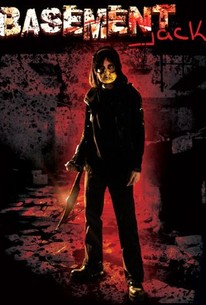 AUDIENCE SCORE
Critic Consensus: No consensus yet.
Movie Info
Eleven years after slaying fifteen people including his own mother, serial killer Jack Riley sets out to finish what he started in this low-budget slasher opus. Jack Riley was just seventeen years old when he embarked on the brutal killing spree that earned him the dubious nickname Basement Jack. Eleven years later Jack's still dangerous as ever, and he's about to be released from the state asylum. But no one has forgotten the name Basement Jack, especially not Karen Cook. By slaying the man who slaughtered her family, Karen hopes to end the cycle of suffering that has plagued her for eleven years. But the body count is rising fast, and if Karen truly hopes to prevent another massacre, she'll have to start thinking like a true serial killer.
Rating:
R (for strong bloody violence, some sexual content and language.)
Genre:
Directed By:
Written By:
On DVD:
Runtime:
Studio:
Black Gate Entertainment
Critic Reviews for Basement Jack
There are no critic reviews yet for Basement Jack. Keep checking Rotten Tomatoes for updates!
Audience Reviews for Basement Jack
½
A solid and brutal slasher film, Basement Jack brings some interesting twists to the slasher genre that will delight slasher fans who have grown tired of copycat films. Trippy and twisted, Basement Jack hearkens back to old-school slashers in its insanity...
Al Miller
½
Basement Jack (Michael Shelton, 2009) I've seen a number of reviews of Basement Jack that would seem to be trying to shoehorn it into the retro-horror category with movies like The House of the Devil and Insidious. This tells me one of two things, and I can't be sure which it is: either these folks have no concept of what the directors in the retro-horror movement are trying to do, because Basement Jack never even attempts to take that route, or these folks are desperately trying to find something good to say about what is otherwise a bland, featureless slasher flick. (As I said, I don't know for sure, but I am somehow oddly convinced it's the former.) Our title character (Miracle's Eric Peter-Kaiser) is a crazy killer who gets sent up for killing the family of Karen Cook (played as an adult by Bled's Michelle Morrow) during a raging storm. Fast-forward eleven years. Jack was released from the asylum (writer Brian Patrick O'Toole, most recently responsible for the abortion that was the new Atlas Shrugged script, seems to have missed the bit in every courtroom TV show that tells you that when you're declared mentally incompetent, the hospital is supposed to keep you until you're, you know, better) and, not coincidentally, there's been a string of murders wending its way across the country. Karen Cook, now an adult, is tracking Jack to take her revenge. The two collide in a small town just as the rainy season rolls in. What these "this hearks back to the glory days of the eighties slasher film!" folks don't get about the new retro-horror movement is that it's not about the subject matter. Yes, they're obviously aping the subject matter, but that's just a function of trying to create a film with the look and feel of a seventies/early-eighties horror flick with a modern plotline, as Insidious did with The Entity or The House of the Devil did with any number of seventies Satanic-Panic movies. For a literary parallel, think about H. P. Lovecraft. Lovecraft is one of the most imitated authors of the twentieth century, but everyone who sucked the blood from Lovecraft's neck went for the crawly things, from August Derleth all the way down to Fred Chappell. They're all decent enough writers, and the stories are amusing, but they don't have that something that makes Lovecraft's work so appealing. Enter Thomas Ligotti, who chucked, for the most part, the creepy-crawlies and took the Lovecraft atmosphere. He showed the world exactly what all those other folks were missing. Back to Basement Jack, you've got Sam Raimi and Ti West and James Wan being the Thomas Ligottis of the film world; Michael Shelton, at least with this flick, is just another Steven Rasnic Tem or Brian Lumley, turning out journeyman work that's competent enough, but pretty darned hard to get excited about when you've got genre giants looking over your shoulder doing it so, so much better. (As a side note, I didn't know before watching it this is the middle part of a very loose trilogy, the third part of which has not yet come out as I write this; if you value continuity in such things, you will want to watch Evilution first, though I don't think it's necessary to figure out what's going on here.) * 1/2
Robert Beveridge
½
Awesome movie! It has a cool little story to it, along with some pretty outrageous kills. Basement Jack should be a new horror icon, I love him and the idea of him. I enjoyed this one!
Jacob Palacio
Super Reviewer
Basement Jack Quotes
There are no approved quotes yet for this movie.