Midnight Movie
(2008)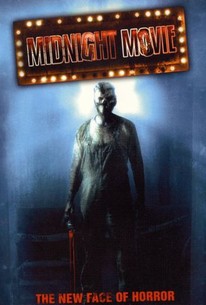 AUDIENCE SCORE
Critic Consensus: No consensus yet.
Movie Info
A midnight screening of a 1970s cult horror film becomes a wholesale bloodbath after the members of the audience see one of their friends butchered on the big screen, and quickly surmise that there's a madman in the theater who seeks to slaughter them all. It was just another rundown movie house in a small suburban town -- what better place for a screening of a true cult classic? But this isn't your typical horror film, because years ago, the director had been locked away in a psychiatric hospital after having a complete mental breakdown. The teens at the screening have no idea that he escaped from the hospital nearly five years ago, and that chances are good he's still out there somewhere. When the film starts to roll and the heckling begins, the atmosphere in the theater is loose and fun. Giddiness gives way to deep-rooted dread, however, when the horrified audience is forced to watch as one of their good friends is viciously murdered right before their very eyes. This is no movie, and when the audience tries to flee they realize that the same psycho they just saw on the silver screen has now trapped them all in the theater. With no hope of escape and their numbers thinning fast, the survivors must now figure out a way to turn the tables on the very same killer that they once rooted for in their favorite slasher flick.
Critic Reviews for Midnight Movie
Audience Reviews for Midnight Movie
Midnight Movie is a refreshing return to the good old fashioned slashers of old. Putting into context that horror nowadays is bland, this is an interesting film both in concept and story. The idea for the film is good and the story is pretty interesting. I'm sure if this film could have been given a bigger budget, and backed up by a major studio, it could've easily turned into a franchise. I have only one complaint, the cast were not that great, but considering that this is an independent film, it's understandable that its exactly not a top notch set of actors. But the characters weren't very likeable either. However the actors did a fairly decent job despite them not being that great. It now seems that Hollywood is all but interested in remaking classic Horror titles. Only a handful of directors are willing to take the risk and direct something new and fresh. This is the case with Midnight Movie, directorJack Messitt first directorial debut. This film is definitely a breath of fresh air. It looks cheap, the actors are unknowns and the film just has a gritty, raw feel that echoes classic Horror films. Midnight Movie is a fun ride. What I really love about this film is that it really delivers the goods on awesome Horror, it doesn't try to strain too far by being just another Halloween or Friday the 13th clone. The cast is comprised of unknowns, like I said previously in this review. Which, in my opinion, gives this film an even greater sense of accomplishment. What I mean by that, is that Messitt uses new talent to his own advantage,and manages to get genuine scares and shocks out of these actors unlike shitty remakes. Messitt succeeds on every level. This is an awesome film worth checking out
A solid little slasher effort. Not heard of it before, the production values are pretty good for the budget. It has a fair amount of gore, cool mask for the killer, it has some neat touches as well, some of the camera angles used etc. The best point though is the idea of a killer who can come out of the film and take his victims back inside the film with him. Maybe it could have been even better, great opportunity for more in-jokes etc. Overall for a low budget slasher it has some refreshing ideas. One for the fans for sure.
This is what I call Horror!
Midnight Movie Quotes
There are no approved quotes yet for this movie.