Midnight Movie Massacre
(1988)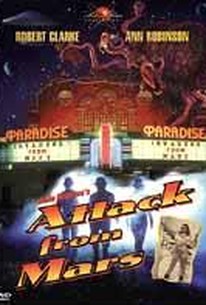 AUDIENCE SCORE
Critic Consensus: No consensus yet.
Movie Info
Rating:
NR
Genre:
Directed By:
Runtime:
Critic Reviews for Midnight Movie Massacre
All Critics (3) | Fresh (0) | Rotten (3) | DVD (1)


Audience Reviews for Midnight Movie Massacre
Surprisingly similar to the previous years, more child friendly, Invasion Earth. Aliens take over a cinema while the patrons watch real B&W sci-fi movie trailers. Really poorly acted with attempts at jokes and parody of the genre that all fall flat.
Mark Nash
[center][img]http://i15.photobucket.com/albums/a392/thirdmaninyellow/Misc/midnightmoviemassacre.jpg[/img] [left][font=Courier New]The attendees of a small movie theater are all set to see the next installment of [i]Space Patrol[/i], a science fiction movie serial. What they don't know is that outside the theater a U.F.O. has landed, and something very hungry has just stepped out of it. And while the movie continues to play, this thing continues to kill and devour the crew and customers of the theater. [i]Midnight Movie Massacre[/i] is supposed to be a parody of the 1950's sci-fi films. While it does have a few moments here and there that garnered a chuckle out of me, the film doesn't ever manage to parody anything successfully. Instead it is just a long series of pointless and gross-out humor scenes strung together with an extremely flimsy storyline. The ending to the film is by far the final nail in the coffin for it. I'm sure that directors Larry Jacobs and Mark Stock had good intentions with this film, but they might have thought it out a little more. I love the b-grade sci-fi and horror films of the 1950's, but this film doesn't live up to their charm.[/font] [/left] [/center]
Bryan Gomez
Midnight Movie Massacre Quotes
There are no approved quotes yet for this movie.