Milarepa
(2007)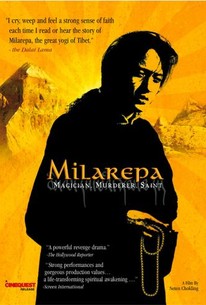 Milarepa Photos
Movie Info
Bhutanese director Neten Chokling's fantasy Milarepa mounts and cinematizes an ancient Buddhist legend -- a moral fable from the eponymous monk's colorful early life. The story unfolds in the 11th century, when Milarepa (Jamyang Lodro) -- christened Thopaga -- unexpectedly loses his father, and finds his life plunged into a bleak hell. His vile aunt and uncle, Peydon and Gyalsten (played by Lhakpa Tsamchoe and Gonpo, respectively), seize control of the deceased's inheritance and force Thopaga, his mother, Kargyen (Kelsang Chukie Tethtong), and his sister, Peta (Tashi Lhamo), into a period of seemingly limitless domestic slavery. When Thopaga turns 16, Kargyen seizes the opportunity to throw an engagement party for him, hoping that she can use the circumstances to reclaim property and title. The townspeople fail to come to her aid, however, causing Kargyen to spur Thopaga onward toward an apprenticeship in the dark arts and an onslaught of ugly, black magic-fueled revenge. In the end, her plan backfires -- thus demonstrating the nasty consequences for anyone who seeks unbridled vengeance against evildoers.
Rating:
PG (for some violence/disturbing images and thematic elements)
Genre:
, , ,
Directed By:
Written By:
In Theaters:
On DVD:
Runtime:
Studio:
Cast
Critic Reviews for Milarepa
Audience Reviews for Milarepa
When we saw this, I had not heard of Milarepa or read any of his teachings, so it's hard to say if I'm missing the point here, or if the film isn't delivering something. It's a fun movie. It came across like a Tibetan version of Harry Potter - boy with really mean Uncle goes to secret magic school and becomes a sorcerer. Although I suppose Harry Potter didn't wipe out a whole village in an act of revenge (at least I'm assuming he didn't - I've only seen two of those movies and one was on a plane so it was hard to focus on it.). At this point the Milarepa movie takes a somber tone and we learn that revenge is empty and hollow, a lesson I've been told before, but frankly I'm too Western, psychotic, and angry at the patriarchy to get much mileage out of any sort of "letting go/love your enemy" type philosophy. Didn't buy Christian forgiveness, don't buy this. But that's me.The movie ends there, and I guess there's going to be (or maybe there already is) a sequel where we learn how he becomes an enlightened monk. I guess I'd watch the sequel if it were on, but I think I should probably read his actual writings than rely on sword-and-sorcery type movies to learn more about this subject.
Jenny Gonzalez-Blitz
½
My guess is most people won't "get" this film. Its only the first part of three important phases of the life of Milarepa and does little to let viewers know this... soo it leaves viewers in an odd break... Like ending the Titanic as the boat leaves port on its maiden voyage. His discovery of the teachings of the Buddha and his merciless repentance at the hands of Marpa the Translator, and his legendary secluded mountaintop isolation... all led Milarepa from the darkest of places to enlightenment within the span of one lifetime... These are parts yet to be filmed that truly breathe life to an inspirational epic. For his story is as important to the foundations of Buddhism as the books of the apostles are to Christianity. Buddhists have long celebrated his 100,000 songs for in each, a lesson and insight is found. If anyone wants to really appreciate the story of Milarepa, they'd be well advised to find even a brief summary prior to seeing the movie.
Charlie Koenen
Discussion Forum
Discuss Milarepa on our Movie forum!
News & Features