Loose Cannons (Mine Vaganti)
(2010)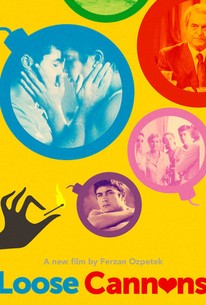 Loose Cannons (Mine Vaganti) Videos
Loose Cannons (Mine Vaganti) Photos
Movie Info
Tommaso is the youngest son of the Cantones, a large, traditional southern Italian family operating a pasta-making business since the 1960s. On a trip home from Rome, where he studies literature and lives with his boyfriend, Tommaso decides to tell his parents the truth about himself. But when he is finally ready to come out in front of the entire family, his older brother Antonio ruins his plans.
Rating:
NR
Genre:
, , ,
Directed By:
Written By:
In Theaters:
On DVD:
Runtime:
Studio:
Critic Reviews for Loose Cannons (Mine Vaganti)
Audience Reviews for Loose Cannons (Mine Vaganti)
½
Lovely views of a southern Italian town, peppered with good food and hearty familial ties make this a charming, enjoyable experience. I really liked the opening & ending sequences with the family matriarch.
Aaron Chuah
½
Leave it to the Italians to showcase family first in their cinema. Better still, leave it to Turkish director Ferzan Özpetek (Facing Windows) to capture a family tree with such varied & vibrant branches in his brilliant comedy Loose Cannons. Make no mistake, this isn't the Brady Bunch: The Cantones are moving into the 21st century, whether they're ready or not. Who wants to spend two hours with a group of people who get along famously without so much as a cross word between anyone? Give me jealousy, love and secrets... After all, isn't this all about family? Özpetek gives his audience all this and more... a perfect blend of comedy and satire. He tells an assortment of compelling tales, all within 2 hours and gels them together without redundancy. Each character adds their own ingredient to this delicious film. Riccardo Scamarcio stars as Tommaso, the youngest son of Vincenzo Cantone (Ennio Fantastichini) the patriarch and head of the family pasta business. Tommaso has been living his own life in Rome and is reluctant to return home and join the family business. Vincenzo is decidedly old school and insists on doing things the traditional way. He expects the same from his family and specifically his two sons. Anything else is off-limits and subject to dismissal from the family. Trouble is, Tommaso is about to reveal a secret or two... that sets off a chain reaction of hilarious (and sobering) consequences. Tommaso reveals those secrets to his brother Antonio (Alessandro Preziosi) who runs the business' day-to-day operations. Tommaso confides that he will reveal these truths to the entire family at dinner. Antonio warns Tommaso that such a public revelation will cause irreparable damage, but younger brother has made his mind up. Loose Cannons kicks into high gear at dinner when Antonio surprises and upstages his brother with his own declaration. The results of this family dinner compel Tommaso to put his plans on hold and stay awhile. Normally, I'd provide you more information, but you deserve to experience Loose Cannons and all its nuances for yourself. Suffice it to say, you're in for a real treat. Özpetek has an ample assortment of great actors (and characters) and wastes no time in using them all perfectly. Scamarcio is an Italian reincarnation of Tony Curtis with the same haunting eyes that demand your undivided attention. Intense looks aside, Scamarcio's innocence softens his glare and what remains is a man on the cusp of truly finding himself. Tommaso is paired off (literally) with Alba (Nicole Grimaudo) a true loose cannon, but not in the same meaning as the title. Tommaso and the assertive Alba run the business for a while, and start to develop feelings for each other. Let me say one thing about Grimaudo... She is the perfect woman! Seriously, I'd marry her on the spot without having ever met her in person. If she's half as interesting as the character she plays with such gusto, I'd be twice as happy. From the moment she drives on screen, Grimaudo steals the film (no easy task with such a gifted ensemble.) She takes mundane details such as changing shoes to eye-catching (or in my case, heart-stopping) heights. Her relationship with Tommaso is like a fine Italian dish... each step is taken with care and precision; And while it's obvious they can never be together, you still find yourself holding out hope. As for the rest of the ensemble, you could hand out multiple awards based on a few moments on screen. Ilaria Occhini is sensational as Tommaso's grandmother who knows a thing or two about secrets. Paola Minaccioni is delightful as the much maligned servant Teresa, and Elena Sofia Ricci is even better as Tommaso's lovelorn aunt who really should wear her eyeglasses more often. The insertion of Gianluca De Marchi and friends gives the film an even further boost with an Italian twist on La Cage aux Folles. The one thing Loose Cannons doesn't do (not that it has to) is bring much new to the table: Özpetek merely perfects what we've seen here and there in prior films. But as any accomplished cook will tell you, it's the simplest ingredients that make the best meals.
Peter Freeman
Italian's unique sense of humour plus their typical way of handling comedy, the strong sense of hypocrisy, conservativeness, cheesiness & stereotypes got on my nerve from the very beginning.
WS Wu
Discussion Forum
Discuss Loose Cannons (Mine Vaganti) on our Movie forum!