Miss Representation
(2011)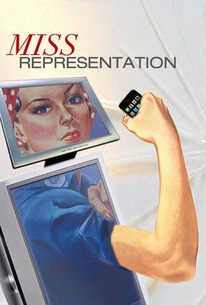 AUDIENCE SCORE
Critic Consensus: No consensus yet.
Miss Representation Photos
Movie Info
In 2010, women are better represented on television, in movies and in the news media than they have ever been in the past. However, while this increased visibility had led many believe that women have achieved something like equality, the truth is women have a long way to go before they achieve anything close to parity, as women count for only seventeen percent of elected officials in Congress and seven percent of working directors of feature films. Actress turned filmmaker Jessica Congdon Newsom studies the obstacles women face in the media and the stereotypes that still define them in the documentary Miss Representation. Featuring interviews with noted figures in politics (Nancy Pelosi and Condoleeza Rice), broadcast news (Katie Couric and Rachel Maddow), television (Margaret Cho and Lisa Ling) and movies (Geena Davis, Rosario Dawson and Jane Fonda), Miss Representation explores the glass ceiling that many women in the media still struggle to break and the double standards applied to women in terms of appearance and persona. Miss Representation was an official selection at the 2011 Sundance Film Festival.
Critic Reviews for Miss Representation
All Critics (3) | Top Critics (1) | Fresh (3) | Rotten (0) | DVD (1)
This film needs to be watched by teenage girls, for whom it may well serve as both a wake-up call and a course called Women's Images in Media 101.
January 20, 2012 | Rating: 3/4

Miss Representation is exciting and empowering, yet simple and entertaining. It's a must-see.
It may feel like the barely cinematic equivalent of a grad school thesis, but it's also a documentary that will spur conversations, one that could inspire and change lives.
January 22, 2011
Audience Reviews for Miss Representation
There are some interesting things here, but they are sadly lost in this clumsily-edited huddle of talking heads and randoms opinions instead of being supported by solid arguments from people with qualification who could discuss these issues in depth and with a lot more consistency.
Carlos Magalhães
Super Reviewer
½
Miss representation started off well with a true story, but then it suddenly became political and went straight down hill. Although the film has a nice message, it was biased, manipulative, ignorant and inconsiderate. Just by interviewing people with no real qualifications and throwing clearly biased stats will not make the educated viewers more sympathetic towards the real issue. Why is the film only focusing on Hollywood? There are more than just Hollywood and California in this world please. The film really needed a direction, it wasn't going anywhere and keeps circling around the same themes. The editing was probably the worst part of the film, even a 3 year old can do a better job than the editor of the film. It is informative and all that but trust no liberal films.
Sylvester Kuo
Super Reviewer
The doc's exposé of the disgusting state of women in US media is a crucial one that we need to teach our children. Sadly, "Miss Rep" uses the cheapest graphical tricks from the book with overblown effects and childish editing to elicit pathos. In addition, though the message is precious, this particular doc implies that the blame is not in the people or culture, but rather in the elitist media tyrants that, it argues, control them; I don't think the term "Capitalism" was fully understood. And, the liberal bias becomes more and more evident when the only snippets of negative media come almost exclusively from right-wing outlets. Yes, this doc is quite one-sided, even with the shoehorned, rushed alternate perspectives at the end. There are shots and montages of women being abused with little or no connection to the earlier trends in the media that it mentions; contemporary dangers demonstrated in our nation's youth are touched upon without much cohesiveness in surmising how they came to be. The doc mainly points out a problem rather stoically without much emphasis on the causes, tons of speculation on the effects, and scattered musings on a nonexistent solution. The power of the media and the discrimination of women prolonged by its misuse is a very relevant topic that should be discussed. "Miss Rep," however, seems to have a casual disregard for science and context; its aim is to elicit emotion rather than discuss, thereby being a means of converting people to feminism, and, evidently, to other causes in its left, conspiracy-ridden mindset rather than concentrating solely on its premise. I'm not sure if that polar extreme is much desirable.
Edward Stymest
Super Reviewer
Miss Representation Quotes
There are no approved quotes yet for this movie.