Miss Violence
(2013)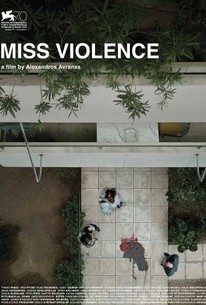 Movie Info
Unhappy birthday: The day of her party, 11-year-old Angeliki jumps to her death from her family's fourth-floor balcony. The ensuing investigation into her seemingly inexplicable suicide gradually reveals unspeakable horrors lurking beneath the family's eerily placid surface. The latest in the remarkable wave of iconoclastic new Greek cinema that yielded DOGTOOTH and ATTENBERG, MISS VIOLENCE unfolds with a skin-crawling sense of deadpan detachment before it explodes in shattering tragedy. (c) Museum of the Moving Image
News & Interviews for Miss Violence
Critic Reviews for Miss Violence
Audience Reviews for Miss Violence
This awfully disturbing film is careful to introduce us without haste to its characters and their dynamics together before starting to dig up what lies beneath their tight family discipline - which is reinforced by Avranas' rigorous direction and even a beautiful ten-minute long take.
Carlos Magalhães
Super Reviewer
Entirely unconvincing and illogical film that thinks it's the next "Dogtooth" or "Funny Games" (it has none of the former's wit or intelligence). Performances range from the blank to the comatose and, though the aim presumably is to shock, it's a dull slog despite some nice camera work.
Daniel Parsons
Super Reviewer
The heritage of Greek tragedy is seen in this unerring depiction of the worst of human nature, with a depth and economy beyond anything modern or shakespearean. The makers of such a film face the question of whether it should be made at all, because of the risk of voyeurism, or complacency. What result does it have? Still, the exploitation, graphic enough, is exactly within the film's contempt for the rapist. He wants and needs to feel reassured, that he is accepted by the victim. Instead, he is hated and despised. There is no consent, even if there is compliance. A profound point arrives when a girl loses all belief in the man she thought of as her father. The film will be upsetting to anyone who has experienced such crimes, and shocking to others. It often breaks the fourth wall, demanding that the viewer acknowledge their witness. Artistically, the film is brilliant, the acting exceptional. As a document of male inhumanity, it shows a harsh reality.
Miss Violence Quotes
There are no approved quotes yet for this movie.