The Missiles of October
(1974)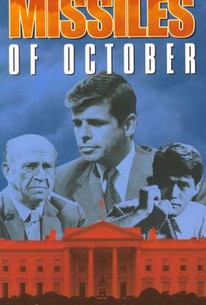 The Missiles of October Photos
Movie Info
The 1962 Cuban Missile Crisis is the subject of this made-for-TV effort. Starring William Devane as President John Kennedy, the movie explores the events of the 13-day period when the world stood on the brink of nuclear war.
Rating:
NR
Genre:
,
Directed By:
Written By:
On DVD:
Runtime:
Studio:
MPI Home Video
Critic Reviews for The Missiles of October
Audience Reviews for The Missiles of October
As a re-enactment of things as they happened not all that long ago.... captivating. For those that know nothing of the incident, the staging of nuclear missles 90 miles from U.S. shores was unthinkable. [img]http://ecx.images-amazon.com/images/I/51Nx6xOEXWL._SY355_.jpg[/img] SEE the entire film here: http://www.youtube.com/watch?v=dmtp8XosVBE The single MOST curious fact of the film is that there is a constant need to HIDE all activities from the press. As if a panic, or more importantly, a tipping of the hand of American intentions meant EVERYTHING to the then Kennedy administration. They did not want the Soviets to think anything was unusual even at a time when things were terribly unusual. This is chess playing of the highest order. [img]http://www.artsjournal.com/aboutlastnight/6a01156f1b6b31970c0120a77c93db970b-320wi.jpg[/img] President Kennedy (William Devane) Another striking observation... the continuance of high level dinners and cigar smoking and all the trappings of high office. Its fairly disgusting how all of our lives were held in the balance while these guys sit eating dinner casually and Kennnedy, while understabling having a bad back, sits comfortably in his rocking chair discussing the odds of nuclear annihilation. [img]http://upload.wikimedia.org/wikipedia/en/thumb/e/e5/Missilesofoctoberdvd.jpg/200px-Missilesofoctoberdvd.jpg[/img] Suggest all students of history, politics and anybody remotely interesting in the topic of just how the US came so close to nuclear war... watch this one. I can remember watching President John Kennedy addressing the nation about this incident. It was terrifying. We really did come seconds away from obliteration. It's easy to blow that comment away... not so easy to know for a fact it could happen and would have happened knowing the state of the world powers back then. [img]http://t3.gstatic.com/images?q=tbn:ANd9GcRtG8-seLieYysi2pbjzk6WubeksAaNwdnmGe4qYpPqllBl6-CHzg[/img] NOTES: 1 The Missiles of October is a 1974 docudrama made-for-television play about the Cuban missile crisis. The title evokes the book The Guns of August by Barbara Tuchman about the missteps among the great powers and the failed chances to give an opponent a graceful way out, which led to the First World War. 2 The teleplay introduced William Devane as John F. Kennedy and cast Martin Sheen as United States Attorney General Robert F. Kennedy. 3 The script is based on Robert Kennedy's book Thirteen Days: A Memoir of the Cuban Missile Crisis. 4 The Missiles of October gave the US general public its first look behind the scenes at the inner workings, disagreements, and ultimate consensus of Kennedy's administration to blockade Cuba, rather than attempt to invade to dislodge the just-discovered, only partially completed Soviet nuclear missile emplacements in Cuba. It details US attempts to give the Soviets room to negotiate without appearing to capitulate, and also periodically depicts Khrushchev reporting progress of the events to his Communist Party cohorts. [img]http://images.sodahead.com/polls/003246245/themissilesofoctober_answer_7_xlarge.jpeg[/img] Martin Sheen is Bobby Kennedy REVIEWS by the unpaid: 70% Not as good as Roger Donaldson's Thirteen Days, made 27 years later. But the Missiles of October film got there first, and it's still good and worthwhile... Cast William Devane as President John F. Kennedy Martin Sheen as United States Attorney General Robert F. Kennedy Howard Da Silva as Soviet Premier Nikita Khrushchev Ralph Bellamy as U.N. Ambassador Adlai Stevenson Michael Lerner as White House Press Secretary Pierre Salinger Clifford David as Theodore Sorensen, Special Counsel to the President John Dehner as former US Secretary of State Dean Acheson Nehemiah Persoff as Soviet Foreign Secretary Andrei Gromyko Albert Paulsen as Soviet Ambassador to the United States, Anatoly Dobrynin Dana Elcar as US Secretary of Defense Robert McNamara Larry Gates as US Secretary of State Dean Rusk Keene Curtis as CIA Director John McCone James Olson as Special Assistant for National Security Affairs McGeorge Bundy Andrew Duggan as Chairman of the Joint Chiefs of Staff Maxwell Taylor Robert P. Lieb as Chief of Staff of the USAF Gen. Curtis LeMay Kenneth Tobey as Chief of Naval Operations George W. Anderson Jr. James Hong as U.N. Secretary General U Thant John Randolph as Under Secretary of State for Economic and Agricultural Affairs George Ball Ron Feinberg as French President Charles de Gaulle Paul Lambert as ABC News reporter John Scali Harris Yulin as KGB Agent Alexander Fomin Stewart Moss as Kenneth O'Donnell Peter Donat as British Ambassador to the United States David Ormsby-Gore Thayer David as uncredited narrator [img]http://www.austinchronicle.com/binary/7f1a/cols_ventura.jpg[/img] Directed by Anthony Page Produced by Robert Berger Herbert Brodkin Written by Stanley R. Greenberg Country USA Language English Original channel ABC Release date 18 December 1974 Running time 150 mins [img]http://moviereviewwarehouse.files.wordpress.com/2012/11/missilesoctober.jpg[/img] left to right: Robert Kennedy (Martin Sheen), Robert McNamara (Dana Elcar), President John F. Kennedy (William Devane)
monsieur rick
½
Not as good as Roger Donaldson's Thirteen Days, made 27 years later. But the Missiles of October film got there first, and it's still good and worthwhile. Also it's interesting to see differences in what was known then, historical, compared to what we now know and see in Donaldson's later film.
Brian Hoeft
The Missiles of October Quotes
There are no approved quotes yet for this movie.