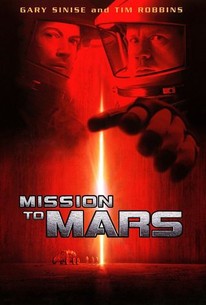 Mission to Mars
2000, Sci-fi, 1h 52m
115 Reviews
50,000+ Ratings
What to know
critics consensus
Beauty only goes skin deep in this shallow but visually stunning film. Read critic reviews
Where to watch
Rent/buy
Rent/buy
Rent/buy
Rate And Review
Movie Info
The first manned mission to Mars in 2020 ends in disaster when three of the crew are seemingly killed and the fourth, Luke Graham (Don Cheadle), is stranded with no way to contact Earth. Jim McConnell (Gary Sinise), Woody Blake (Tim Robbins), Phil Ohlmyer (Jerry O'Connell) and Terri Fisher (Connie Nielsen) are sent on a rescue mission to rescue any survivors and find out what happened. The team uncovers startling evidence that Mars may not be a dead planet after all.
Audience Reviews for Mission to Mars
What a ridiculous pseudo-philosophical sci-fi that makes no sense. Morricone's score is beautiful as always, but the horrid script is utterly implausible and illogical, with a blatant disregard for details and coherence.

This was the first of two films released in 2000 that detailed trips to Mars. Incidentally, both movies were also quite poorly received by critics and audiences. Either people just had a hate for our neighboring planet, or we just coincidentally happened to get two similar bad films in the same year. The kicker with this one is that there's a good and interesting concept and ideas going on, and talented people involved, but things end up being a big messy failure. I place some blame on Brian De Palma, whose direction seems really lazy , and the screenwriters, who deliver a poorly written script with way too much cribbing from many far better films. And then there's also the characters, who should be smart since they're scientists, but act really dumb and unprofessional. I would like to say that the actors involved tried, since they are talents like Gary Sinise, Don Cheadle, and Tim Robbins, but even they seem to be sleeping through things, and failure to be all that compelling or interesting. At least Connie Nielsen is there to function (for straight men anyways) as a bit of eye candy. Even for 2000, the special effects are laughably bad, and really undercut any credibility of the movie or the developments of the plot they are connected to It's hard to take any of this seriously, and it's painful to look at. Like I said though, the film does have a nice concept to it, which is as follows: man's first trip to Mars doesn't end well, so another team is sent to rescue any survivors and figure out what happened. When the second team arrives, they discover some startling revelations where humanity and life are concerned. Having seen this after seeing Prometheus, I can't enjoy this as much sicne both are quite similar, but not entirely the same. That film was at least better acted, well made, and actually had some excitement to it. This one is just boring and dull. Since its De Palma, there is some decent camera work, and at least one trademark long take, but nothing all that great like in some of his other films. The only real thing that's without a doubt good is the score by Ennio Morricone. It's far from his best work, but it's still pretty good, and does save the movie from being a total failure. It's just too bad it's not associated with something better. Despite his influence and skill, De Palma remains a real hit and miss director. I tried to give this one a chance, but I can easily see why this is clearly one of his worst.

As the end of the 20th Century came to a close, in the final year, we were given the first of two sci-fi films based on the planet Mars, this was the first released. It kinda came across that these films were like a kind of beacon, a sign for the start of greater things to come, perhaps we would reach Mars very soon, perhaps what we were to see in these films would become reality...alas no, not yet. Even with a musical score composed by the legend Morricone this film falls short and its such a shame, to be honest its not too bad but clearly tries to be an epic and simply can't fill those boots. The plot obviously is revolving around adventures on and orbiting Mars, you know exactly what to expect really, the dangers, the tone, the atmosphere, the look etc...you can see it coming a mile off but you look forward to it because its space adventure. The problem is the film is desperately trying to be like '2001' in terms of grandeur in scale and visions but its just too plain, there is an obvious attempt to make it as real as possible but nothing looks exciting or new at the same time, its all rather dull looking. The effects are quite good with models and cgi in use (too much of course), good sets, nice Mars work etc...but there is nothing truly EPIC here, it almost looks like a TV movie at times. Casting is good, you simply can't do a space film without Sinise haha you just can't, the man just makes it look so...real! The rest of the team are decent, sensible and not overblown but maybe too big for the roles, the usage of unknowns would have been better I think. The score again like the film just doesn't quite hit the mark in my opinion, Morricone is the man and his work here is good for sure but is it me or does it sound a bit too close to his 'Untouchables' score? everytime it played I just kept thinking of 'The Untouchables'. As for the rest of the score its unusual and simply doesn't work, emotional scenes are ruined by a quite odd and poor choice in music which totally takes you out of the moment, the film may be inspired by a Disney ride but there's no need to make it sound like a Disney kiddie film. The whole film seems a tad rushed really, the plot jumps from one section to another not even showing the launches from earth or much travel, sure there are time constraints but maybe make the film a bit longer and add some realism or filler? characters are fleshed out mostly in flashbacks which mean nothing really, dialog is really cheesy which equals some pretty wooden/hokey acting from even Sinise! hehe. Add to that a rather dodgy looking cgi alien, a basic plot finale which was sort of an anti-climax and tries a bit to hard to do the 'E.T.' thing with your emotions but kinda fails and then a very blunt flat ending. Enjoyable film which tries its best to really be something special but isn't, the better of the two Mars films, the more sensible one (the 'Deep Impact' of the two ;) )

The visuals are definitely arresting, but the story behind them is too timid and unadventurous to keep up with them.
See Details