Moebius
(2014)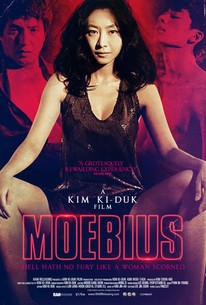 Movie Info
The husband. The wife. Their son. The atmosphere at home is ice cold - the husband distracted by an affair with a young woman, the wife sick of her husband's debauchery, and the teenage son indifferent to them both. Overwhelmed with hatred, the wife attempts to remove from the husband the organ driving his desires; thwarted, she instead takes out the violent act on the son and then disappears into the night. At the hospital, the husband is distraught with guilt, severing his own manhood in solidarity and setting out to recover his son's happiness, sacrificed to his parents' conflict. Disfigured in such a radical way, the son slowly deviates from normal life, even falling for the husband's young mistress as the husband discovers strange and severe ways to help his son find pleasure again. With both husband and son damaged and living in grief, the wife returns as the family heads towards destruction even more horrific than before. (C) Ram
People Who Like this movie also like
News & Interviews for Moebius
Critic Reviews for Moebius
Audience Reviews for Moebius
½
What actually bothers me in this disturbing - and perversely hilarious - Korean Oedipal-Buddhist parable is not those hard-to-stomach scenes of genital mutilation, rape and incest but how technically awful it all is - the lighting, continuity, clumsy zooms and ugly camera movements.
Carlos Magalhães
Super Reviewer
The award for most fucked up movie of 2014 goes to...well, if you're reading this then you know what I'm talking about.  If you like your films depraved and sordid, then this will be your holy grail.  I cannot even begin to describe this film's plot and I'm not sure I even want to.  Let's just say it has to do with the castration of men and how these same men find alternative methods to achieve an orgasm.  Of course, the film being as depraved as it is, these alternative methods are pretty extreme.  The film revels in its depravity, like a pig in mud.  But, admittedly though, this is mostly visually driven as there is absolutely no dialogue in the film.  This would definitely be the biggest complaint I have with this film, which was pretty good.  The lack of dialogue comes across more like self-indulgence on Kim ki-duk's part rather than something that benefits the narrative the film is trying to present.  I find it difficult to believe that the film's integrity would've been tainted if it had some semblance of dialogue.  It didn't even have to be a lot, just make it count.  You can actually see the characters struggle to not actually speak.  That's how you know you've made a mistake in how you tell your story.  I understand the reasoning, it makes the characters actions have much more impact, but it didn't work for me.  Self-indulgence on Kim's part, that's for sure.  And the film, with its powerful imagery, feels more like an attempt to shock more than anything else.  I'm aware of all the subtext involved, but it's drowned underneath the weight of its own shock value.  Don't get me wrong, I enjoyed this movie...but its reach exceeded its intellectual grasp. This is a movie that certainly needs to be seen, mostly for its imagery, but not really for anything else. Still, I thought this was pretty good, a bit of a come down from Pieta for Kim Ki-Duk though.
Jesse Ortega
Super Reviewer
Moebius Quotes
There are no approved quotes yet for this movie.