Mongol
(2008)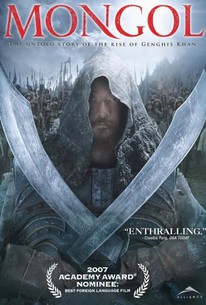 TOMATOMETER
AUDIENCE SCORE
Critic Consensus: The sweeping Mongol mixes romance, family drama, and enough flesh-ripping battle scenes to make sense of Ghenghis Khan's legendary stature.
Movie Info
"Mongol" delves into the dramatic and harrowing early years of Genghis Khan, who was born as Temudgin in 1162. As it follows Temudgin from his perilous childhood to the battle that sealed his destiny, the film paints a multidimensional portrait of the future conqueror, revealing him not as the evil brute of hoary stereotype, but as an inspiring, fearless and visionary leader. "Mongol" shows us the making of an extraordinary man, and the foundation on which so much of his greatness rested: his relationship with his wife, Borte, his lifelong love and most trusted advisor.
People Who Like this movie also like
News & Interviews for Mongol
Critic Reviews for Mongol
Audience Reviews for Mongol
As I watched the great Mongolian horsemen of the 1200's as depicted in the film Mongol, I couldn't help but think that George RR Martin borrowed heavily from them in creating his Dothraki in Game of Thrones. Mongol tells a romanticized version of the early years of the boy who became the man to unite the great and ever warring tribes that roamed the steppes: Genghis Khan. We meet Genghis as a nine year old - being taken by his father a Khan (or tribal leader) to select a bride from a rival tribe in order to bring peace between their two tribes. On the way they stop and visit with a friendly tribe where young Genghis is enamored by a girl one year his senior. He asks his father if he may "practice" his choosing on the lesser tribes girls, and then befuddles his father by actually selecting one. Never a man to go against custom, the father gives his blessing to the union, knowing that it will anger the rival tribe. From there Genghis goes through several trials and tribulations as he grows to manhood as it is clear - being a Mongol isn't for the meek. I found their rituals and customs fascinating, almost more so than the story being presented; that of an undying love amongst all the strife. The film strives for a bit of grandeur yet it is when it focuses on the everyday that the film shows the most insight. Not that the grandeur isn't there - filmed on location in Mongolia you get taken in by the stark beauty of the endless frontier. The cinematography is truly beautiful and soulful as the film attempts to present its tale realistically - but unfortunately gets a bit too artsy- often resorting to slow motion camera work when depicting the million and one fight scenes. And yet there is a certain style and grace exhibited here as well, especially in the grand battle scenes where one cannot help but think of the book "the art of war". It's unfortunate that the film occasionally stumbles, as when Genghis is released from a small prison cell where he has been held for months, and jumps athletically down the escape route - man, I know I'd be stiff as hell being cooped up in a 5 foot square box. It is obvious here that the writer and director think very highly of their topic - but sadly fall into the usual biopic trap - calling Genghis Khan the greatest warrior and conqueror that ever lived... blah blah blah - the exact same thing came at the conclusion of Alexander; though I will say that Mongol has a much tighter narrative and is much more linear than that god awful film.
paul sandberg
Super Reviewer
Very good movie, and VERY well done. The fight scenes are just amazing. I didnt realize until the end that he was Genghis Khan. I just love movies with historical content, and this one did not disappoint.
Cynthia S.
Super Reviewer
A very good film chronicling the exploits and reign of Genghis Khan. This is a terrific film with an excellent cast of actors. Mongol is a very beautiful film and if you love foreign film, you'll love this one. This is a powerful film about the greatest conqueror who ever lived. Mongol is a stunning historical epic in the style of Braveheart. A great historical film that has a lot of action as much as story, this is a film that will please history buffs as well as film enthusiasts.
Mongol Quotes
There are no approved quotes yet for this movie.