Monkey Shines: An Experiment in Fear
(1988)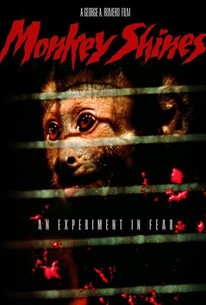 Monkey Shines: An Experiment in Fear Photos
Movie Info
An experiment provides a simian aide that has been trained to assist a quadriplegic, but the man feels a strange connection with the mammal, which is exhibiting "feelings."
People Who Like this movie also like
Critic Reviews for Monkey Shines: An Experiment in Fear
Audience Reviews for Monkey Shines: An Experiment in Fear
½
Disturbing, well executed horror yarn by master director George Romero, Monkey Shines is an accomplished film. With a great cast, and effective scares, this is a must see film for horror fans. What really stood out in this film was the performance of the monkey. That made the film very interesting and memorable. With a great script, and good cast, Monkey Shines is an underrated film that delivers some truly unique chills. This is yet another film that proves that George Romero is a capable director who is able to make other types of horror films. This is an engaging film that is truly entertaining from start to finish. The film does start off slow, but it grabs your attention from the first shot onwards. The film blends Slasher and psychological horror elements into one picture and there's a perfect balance between the two. The result is a film that is quite disturbing and chilling at the same time. This is among Romero's best works that is not a movie dealing with creatures of the undead. Underrated upon release, this is a film that doesn't deserve the flack it has received. This is an effective horror film that induces fear and manages to be an inventive, thrilling and memorable film that is sure to please diehard horror fans. George Romero delivers a truly unique and original film that is really good and deserves much more praise than what it got. If you want to see a different film from Romero, which a totally different change of pace, then give Monkey Shines a watch.
½
Preposterous but, because of a much better cast than this sort of picture usually has, a not unenjoyable scare pic. A few moments of unnecessary violence but mostly overall the tension comes from what is implied rather than shown.
If you look at Monkey Shines as a horror movie, it's a complete failure. It's not horrific or scary at all. However, if you see it as a goofy monkey movie it's a little better. The music is so inappropriate and the length it takes to go anywhere is unacceptable. It also feels like a second rate Stephen King novel a lot of the time. However, it does have some of the best monkey business i've ever witnessed. The capuchin monkey playing Ella gave the best performance in the movie. I just loved seeing it go crazy and fulfill all these bizarre tasks for its paraplegic master. That being said, it's not enough to take away from the boring story, mediocre acting and uninspiring visuals. When you know this comes from an extremely talented horror director it's even more disappointing. You know this could've been good, but it's like no one knew what they were doing (except for the monkey).
Conner Rainwater
Super Reviewer
Monkey Shines: An Experiment in Fear Quotes
There are no approved quotes yet for this movie.