Mortel transfert
(2001)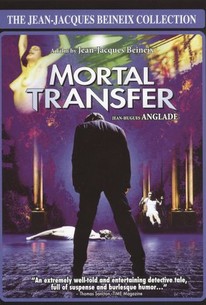 AUDIENCE SCORE
Critic Consensus: No consensus yet.
Movie Info
An analyst discovers just how troublesome his most difficult patient can be in this darkly witty comedy drama. Michel Durand (Jean-Hughes Anglade) is a divorced psychiatrist in his early forties with a successful practice in Paris. One of his patients is Olga Kubler (Helene de Fougerolles), the beautiful wife of a prominent business man with a less than scrupulous past. Olga is dealing with a number of interwoven neuroses, including a strong taste for painful, degrading sex and a compulsive habit of stealing things. Olga has already used Durand as an alibi when questioned by the police about the theft of some valuable jewels, and while Durand told the authorities that Olga was in consultation with him at the time of the robbery, the truth is he's not sure where she was and imagines she's probably guilty. Durand is also afraid to admit that he's become quite bored with Olga's stories about her unconventional sexual liaisons, and one day as she goes on about her favorite subject, he falls asleep. A few minutes later, Durand wakes up, and discovers Olga is dead. Durand has no idea what happened to Olga and isn't sure what to do with the body, but he's too frightened to call the police, so he tries to hide her in his office. Soon, Durand finds himself followed by a mysterious stranger (Miki Manojlovic), dumped by his increasingly suspicious girlfriend (Valentina Sauca), and bothered by Olga's husband (Yves Reiner), who insists the doctor find some valuables that Olga stole from him. Mortel Transfert was the first dramatic feature in eight years from director Jean-Jacques Beineix, who previously helmed the international hits Diva and Betty Blue.
Critic Reviews for Mortel transfert
All Critics (2) | Fresh (1) | Rotten (1)
Black comedy offers a rough and tortured view of the male id
Clever and polished, a surplus of style over a piffle of substance that's supremely entertaining for all its inconsequence.
Audience Reviews
There are no featured reviews for Mortel transfert at this time.
Mortel transfert Quotes
There are no approved quotes yet for this movie.