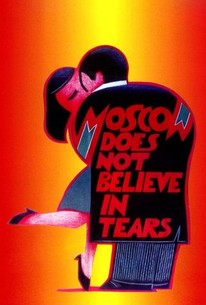 Moscow Does Not Believe in Tears
1979, Romance/Comedy, 2h 35m
5 Reviews
1,000+ Ratings
Rate And Review
Moscow Does Not Believe in Tears Photos
Movie Info
Living together in a workers' dorm, Katerina (Vera Alentova) and her friends are determined to make it in Moscow. But when a boorish cameraman (Juri Wassiliev) forces himself on her, Katerina finds herself pregnant and alone as her friends move on. Twenty years later, she's fought to become a factory director, outpacing her old roommates career-wise, but still alone but for her daughter. When she meets a genial mechanic (Aleksey Batalov), love seems possible again.
Audience Reviews for Moscow Does Not Believe in Tears
This is a captivating love story.. It starts with a young woman (Katya, played by Vera Alentova) reporting to her Worker's Dormitory friends that she has flunked by two points the exam to get into university. It ends with the most incredible sweetness of life. It is like a French film done by a Russian company (which is what it is). The Moscow we see that does not believe in tears does believe in love, and it is not a Moscow of politics, although some people do call one another "comrade." This is a woman's point of view film (a "chick flick") that transcends any genre cage. It begins slowly, almost painfully dull in a way that will remind the viewer of all the clichés about Russia, the unstylish dress, the worker's paradise that isn't, the sharp contrast between Moscow and the peasants who live outside the city. Katya works in a factory. She works at a drill press. She is obviously underemployed. Lyudmila (Irina Muravyova) works in a bakery. She is probably gainfully employed for the time and place. They are friends, twentysomethings who are on the make for a man, but not a man from the sticks. They pretend to be university post docs or something close to that and they impress some people as they house-sit a beautiful Moscow apartment. This is how their adult life begins in a sense. Lyudmila falls in love with an athlete; Katya becomes infatuated with a television cameraman. One thing leads to another and before we know it they are forty. Neither relationship worked out. The athlete becomes an alcoholic, the cameraman, in the sway of his mother, believes that Katya is beneath him (once he finds out that she works in a factory). How wrong he is, of course. But no more of the plot. I won't spoil it. The plot is important. The characterizations are important. The story is like a Russian novel in that it spans lots of time, but once you are engaged you will find that the two and a half hours fly by and you will, perhaps like me, say at the end "What a great movie!" My hat is off to director Vladimir Menshov and to Valentin Chernykh who wrote the script and to the cast. I've mentioned Vera Alentova and Irina Muravyova, but Aleksey Batlov who played Gosha was also excellent. I don't want to say anymore.. 2 stars 4-15-13

Three friends from the sticks try their hand at life in the big city, in this case Moscow at the end of the 1950's, and the film pretty well follows their ups and downs (mainly to do with their love matches). In the process one gleans a different perspective of life over there, a warmer one, than perhaps you imagined you had previously. A chick flick, sure, but not bad.

1980's chick flic, russian style.

The English subtitled translation of the film's title is Moscow Distrusts Tears, which has a bit of a different meaning than the world-wide English title used in the marketing materials and by the Academy when awarding this Best Foreign Language Film of 1981. It is a nice and melancholy melodrama with female protagonists. Specifically, the film follows Katerina or "Katia," played by Vera Alentova. In the late 50s, she rooms with Lyudmila (Irina Muravyeva) and Antonina (Raisa Ryazanova). These life-long friends are concerned with men and how to be successful in the modern world. Antonina already has a steady boyfriend and finds it easiest to settle down into domesticity. Lyudmila is the most boy crazy, wanting to live an exciting, glamorous life. Katia focuses on her studies and being self-sufficient through developing a career. Yet, Katia still faces hardship. She gets pregnant and the class-conscious father turns her away. Twenty years later Katia is a single mother and executive at a large factory. We see the changes in technology and style of late 70s Moscow, yet the three ladies have kept in touch. Before long, the romantic Gosha (Aleksey Batalov) moves into Katia's life. Amongst a few subplots, Gosha and Katia have a falling out and she must rely on her friends to help reunite them. Wonderful performances create characters with depth. The sort of apolitical cultural reference point that shows how much humanity is more similar than we are different.
See Details