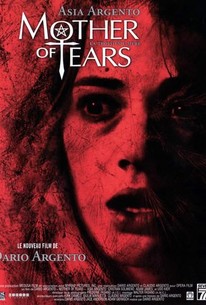 Mother of Tears
2007, Horror/Mystery & thriller, 1h 38m
72 Reviews
2,500+ Ratings
What to know
critics consensus
As excessive and ketchup laden as predecessors Suspiria and Inferno, Dario Argento's Mother of Tears completes the trilogy with the same baroque grandeur and soggy 1970s sensibilities. Read critic reviews
Where to watch
Rent/buy
Rent/buy
Rate And Review
Movie Info
Grisly deaths await Italian citizens after an archaeology student (Asia Argento) accidentally releases a demonic witch from her ancient prison.
Audience Reviews for Mother of Tears
Dario argento finally completed his mothers trilogy in 2007, ive seen suspiria, and inferno i recently saw, which was good but not brilliant, it certainly had that argento feel and look, Mother of tears, for me, not being able to remember suspiria, stands up really well, certainly next to inferno, it still has the english language, which i never fully understood, especially considering rome setting here and of course, italian charactors, but past that it works, its certainly gory too, with that argento touch. Asia argento is perfectly fine in the role, is she daughter of dario ?. the story captures a much larger scale than the ones before and works well, dario argento is nopt a director ive followed, in fact maybe only trhis trilogy ive seen, maybe more cant be sure, but need to see more

A disappointing and unnecessarily sleazy conclusion to Argento's "Three Mothers" trilogy. I don't know quite what Dario was thinking with this one. Asia Argento just cannot act convincingly at all, there's little care taken into making this as stylish and unique as Suspiria or Inferno. As a stand alone tits 'n' gore flick it's fine as it delivers in heaps.

Third in Dario Argento's cult Mother/Witches trilogy. Set in Rome this time, violent goings on start happening in the city as well as strange, unexplainable things that seem to be connected to the occult and something that may involve scientist Asia Argento. Mother of Tears is typical Argento really, some good gore, a few shocking moments and good visual elements and a decent score mean although Mother of Tears isn't up there with Suspiria, it's still a good enough horror that fans of the horror master should enjoy.

George Romero seems to catch a ton of shit for having "lost it" over the course of three films. Dario Argento has been fucking up around once every two years since, I dunno, 1990? And this, this is just unconscionable. For this to be in the same trilogy as Suspiria (which I really disliked upon first viewing but have since come to appreciate), or even from the same director, just puts a lurching sort of nausea in me. It looks like shit, sounds like shit, and makes not an ounce of sense. The acting is horrendous; Asia Argento, who is reliable in some parts but clearly limited, is disappointingly awful in trying to project anything except anger or passion. Sadness, quietude and revulsion are completely out of her grasp, and though she at least convinces in projecting fear, the movie itself has no such luck. It might be the stunningly amateurish staging and blocking putting a damper on her attempts, but she just doesn't work at all. To be fair, if you were compiling a list of Mother of Tears' many failures, she wouldn't be too high up. Things that are more immediately offensive than her: the groan-worthy ending, the cheap and utterly bland setting and aesthetic, and its complete inability to generate any sort of tension or suspense or atmosphere or honestly ANYTHING that would make this worth watching. Even divorced from its horror roots, this doesn't work as any sort of film. As a gory adventure, it's about as exciting as taking a long, feverish Italian nap. Honestly, the gore is just about all Argento gets right, almost as a reconciliation for the rest of his limitations. It just isn't enough to crawl through this disaster, though. It usually is for most of his movies, but his typically excellent set pieces are diminished here, and the viscera brought forth in unsurprising and uninteresting ways. An utter disaster from start to finish, this is more depressing than anything else. There's absolutely no reason to watch this aside from woebegone fealty to Argento himself.
See Details