Mother's Day
(1980)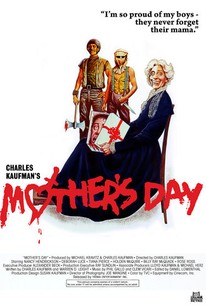 Movie Info
When three women, friends from their college days, head out for the woods in New Jersey to spend some time next to Mother Nature they end up next to Mother Unnatural instead. They are kidnapped by two slow-witted brothers who offer them up to their Mother. Two of the women manage to escape and begin to plot their own fiendish revenge on the deranged mom and sons. Rape and violence are a part of the story but are kept off-screen.
People Who Like this movie also like
News & Interviews for Mother's Day
Critic Reviews for Mother's Day
Audience Reviews for Mother's Day
The team at Troma has delivered a truly unique horror experience with Mother's Day. This is a demented slice of early 80's Slasher cinema that is well done. The tongue in cheek approach to the material adds an interesting touch to the tone of the film. However, this is one twisted ride from start to finish. This is clearly influenced by Tobe Hooper's classic 1974 film and it does something eccentric in its own right. This is an enjoyable horror yarn that should appeal to fans of the genre. There's plenty of gore and enough dark humorous to compensate for a few disturbing scenes. Acting wise there's some pretty decent performances here and Mother (played by Rose Ross) steals the show. Director Charles Kauffman crafts a terrific picture and he is able to focus on a good plot, good gore and decent enough performances. Mother's Day is one of the better Slasher gems of the 1980's and genre fans owe it to themselves to hunt this one down. This is an exciting and fun picture that is well crafted to induce plenty of shocks and thrills. This is a fine horror yarn that overcomes its limitations by its tongue in cheek tone, which goes well with the other elements that Kauffman has up his sleeve. I thoroughly enjoyed this film and it's a fine piece of low-budget horror cinema that is guaranteed to be a memorable viewing experience. Genre fans will enjoy this one as a fine little slasher and it is one of the best the genre has to offer. Charles Kauffman has made a film worthy of the term cult classic. Enjoyable, disturbing and worth watching, Mother's Day is an accomplished horror yarn that showcases a fine balance of chills and slightly humorous aspects perfectly.
Finally after a string of duds, 'Mother's Day, an acidic dark comedy and horror hybrid has salvaged the doldrums of Halloween. Troma Entertainment has never been airtight with technical gaffes (an editing mistake results in a blood spray occurring prior to a decapitation), but this chilling oddity benefits incalculably from the gregarious rapport of the female trio and a savage satire on obeying one's elders. During a candid slide-show of their Rat Pack college pranks and a 'Now & Then'-esque flashback to their retaliation against a prideful baseball player, the three woman are multifaceted and given an inseparable camaraderie that we sympathize with. Rose Ross as mother is both hospitable and unspeakably vile. The backwoods brothers recreate television shows because the Svengali mother "take's what's good from the city and leaves the rest". Some of the lampooning is tacked-on like the non-idyllic portrayals of LA and NY, but 'Mother's Day' is first and foremost a rabid exploitation movie and it drips an unbearably sickening atmosphere (the supernatural Queenie freeze-frame is a pulpy jump scare) which is the purpose of these films.
Cory Taylor
Super Reviewer
½
Saw this because of Eli Roth. There are a couple of original shots and some funny moments, and in the gross-out, sadistic violence and celebration of crudity, it successfully does the horror movie as a Looney Tunes farce, although Joe Dante and George Miller have done that with finesse. The misogyny turns so ridiculous and atonally repetitive -- "YuOU--BITCH! YuOU--BITCH! Yu-OU" get the idea -- the movie can't be a real satire of misogyny. It just makes misogynists men who can't seal the deal because they're either ugly and socially backward or trying to get into the pants of girls who aren't sufficiently deprived of self-esteem and brains. Its flippant vision of the consumer culture in the late twilight of the 70s is unique -- almost equal to Repo Man's early 80s take -- and frankly, I would have liked to see it in another movie.
Adam Mahler
Super Reviewer
Mother's Day Quotes
There are no approved quotes yet for this movie.