Mother's Day
(2012)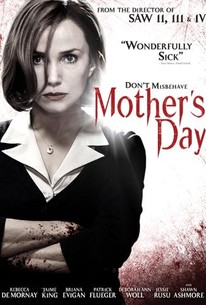 Movie Info
From the maker of Saw II, III and IV, Mother's Day is a graphic remake of the Troma horror classic, Mother's Day. After a bank robbery gone wrong, three brothers go home to hideout...only to discover that their Mother (Rebecca De Mornay) lost their house in a foreclosure. The new owners and their party guests become the depraved brothers' unwitting hostages. Their sadistic Mother soon arrives and brilliantly takes control of the situation, ratcheting up the terror. As the hostages struggle desperately to survive the harrowing torture, they realize that there is nothing a Mother won't do to protect her children. -- (C) Anchor Bay
People Who Like this movie also like
News & Interviews for Mother's Day
Critic Reviews for Mother's Day
Audience Reviews for Mother's Day
Full of the typical "why didn't they do this?", and "I would have done that's!". BUT, all in all it was rather well done, and definitely rarely a dull moment. Rebecca De Mornay does creepy pretty well. I have to say..the ending was not expected, and well thought out. This, to me, means a lot. Movies like this usually get ruined for me with lame, or stupid, endings. Good job...
Cynthia S.
Super Reviewer
This is a really good horror film, just when you think everything has been written this movie comes along. Beth and Daniel Sohapi are celebrating in their recently bought house with their friends. Beth and Daniel have lost their son in an accident, and Daniel has a secret affair. Thieves and brothers Izaak 'Ike' Koffin, Addley Koffin and Jonathan 'Johnny' Koffin are fleeing to the house of their mother in Stonewall after a heist of the First Omaha Bank. Johnny is seriously wounded by a shot and the gang has been double-crossed by their partner who took the stolen money. When the criminals arrive at home, they discover that their mother lost the house two months ago and now Beth and Daniel are the owners of the place. They violently dominate the nine adults and George, who is a doctor, is summoned to help Johnny. Ike calls his mother and sister to join them in the house. The deranged mother calms down the friends and tells them that they will leave the house early in the morning, after the tornado that is threatening the city. However, when she learns that Ike has been sending money for her for two months, she decides to know who has received the letters and kept the money, in the beginning of a night of horror and sadism for Beth, Daniel and their friends.... Another remake of a film I have never heard of, is an exciting premise, but it's one of the most disturbing and sinister films of the year. One cannot deny the power of DeMornays portrayal of the mother, and she ranks up there with one of the screens most psychotic villains. never flinching in the violence, she remains calm throughout the majority of the film, and for a while, I really thought things would go okay, when she arrived at the house, but they just go more extreme. To say that the film is violent is an understatement, but coming from the director of some of the Saw films, I was expecting a little gore, just not acts that made me feel dirty, and a little helpless. For instance, one of the brothers makes two random girls kill each other so the other can live, but just shooting the other anyway, stuff like this isn't really needed, and although I never really criticise a film because of violence, this was not needed. The hostages are not very nice people, but some of the things that they endure makes you sympathise with them. If a man is having an affair, you instantly dislike him, but when the same person is watching a woman burn pictures of his dead child, you cannot help but side with him. The story and narration are great and performances are good too, it's just some of the content leaves you with a bad taste in your mouth and kind of ruins the overall product. And then there's the ending..... 4 Stars 2-14-13
Bruce Bruce
Super Reviewer
Has an interesting and entertaining premise for a horror/thriller, but it gets a little drowned out in the excessive violence and plot twists that make it impossible to sympathize with any character by the end of the film. I enjoyed it immensely, but it left a sour taste in my mouth that still hasn't gone away. There's alot of over-acting in this film, but some decent performances are still there. If you like your thrillers with lots of gore and violence and don't need to latch onto any character, this will be a treat for you. Otherwise, proceed with a little caution.
Josh Lewis
Super Reviewer
Mother's Day Quotes
| | |
| --- | --- |
| Johnny Koffin: | Ahhhh-ly olly oxen free, ya stupid bitch! |
| | |
| --- | --- |
| Mother: | You see, rules are what make order out of chaos. |
| | |
| --- | --- |
| Beth Sohapi: | You left the door unlocked? |