Mouth to Mouth
(2006)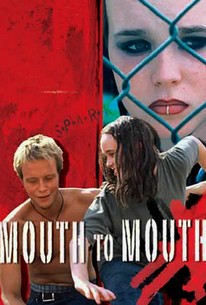 Movie Info
A woman becomes involved with a cult -- the radical street collective SPARK: Street People Armed with Radical Knowledge -- while she is living on the streets of Europe. They introduce her to an amazing and radical life as they travel towards the vineyard compound that will be their home. Manipulation abounds and Sherry comes of age realizing that individuality has its costs.
Critic Reviews for Mouth to Mouth
Audience Reviews for Mouth to Mouth
CAST: Ellen Page, Natasha Wightman, Eric Thal, Jim Sturges, August Diehl, Beatrice Brown, Jefferson Guzman, Armin Dillenberger, Marilyn Burns, Fabian, Joaquim Horta DIRECTED BY: Alison Murray SUMMARY: While hitchhiking in Europe, disaffected teen Sherry (Ellen Page) falls in with an underground cult-like group of former prostitutes and drug addicts. Their charismatic leader (Eric Thal) wants to change the world, but Sherry soon realizes that change comes at a steep price. MY THOUGHTS: " I think the most appealing thing about this movie is that its based on true events from the directors real life. Ellen Page plays Sherry, who finds herself attracted to a group of misfits who travel under the name of SPARK. At first sight they seem like a group of street kids who are out to help one another stay off drugs and not sale themselves for money. But further on in the movie you will think differently of their heroin Harry. These kids who start off in just this group turns quickly into a somewhat cult. It's not a great movie, but its a very interesting one, especially knowing these events took place. So give it a chance.. You may find it as interesting as I did if nothing else. Not Ellen's best work, but she was great in it like everything else she does."
♥˩ƳИИ ƜѲѲƉƧ♥
Super Reviewer
Bit of a strange one. Not entirely sure I liked it that much, but interesting idea. Most of the characters are pretty unlikeable, and the whole thing is quite ugly to look at. Even Ellen Page looks freaky. But it apparently is semi-autobiographical which gives it a bit more credibility. Definitely not on the list to rewatch in a hurry, but worth a look.
Nicki Marie
Super Reviewer
½
Early Ellen Page effort which proves a good vehicle for her but works less well as a whole. The aims of the collective she joins are muddled and it takes the cast a long time to realize the leader is preying on their vulnerabilities. Certainly captures the anarchist vibe.
Gordon Anderson
Super Reviewer
Mouth to Mouth Quotes
There are no approved quotes yet for this movie.