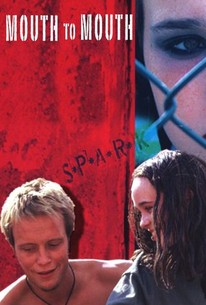 Mouth to Mouth
2005, Drama, 1h 41m
28 Reviews
10,000+ Ratings
What to know
critics consensus
Writer-director Alison Murray has a clear connection to the story, but Mouth to Mouth is too disjointed and thinly sketched to satisfy. Read critic reviews
Rate And Review
Movie Info
An aimless adolescent joins several itinerant misfits who live on the fringe of society and welcome at-risk youths into their fold.
Audience Reviews for Mouth to Mouth
Early Ellen Page but not one that you would want to remember her for. A cult movie that doesn't work.

CAST: Ellen Page, Natasha Wightman, Eric Thal, Jim Sturges, August Diehl, Beatrice Brown, Jefferson Guzman, Armin Dillenberger, Marilyn Burns, Fabian, Joaquim Horta DIRECTED BY: Alison Murray SUMMARY: While hitchhiking in Europe, disaffected teen Sherry (Ellen Page) falls in with an underground cult-like group of former prostitutes and drug addicts. Their charismatic leader (Eric Thal) wants to change the world, but Sherry soon realizes that change comes at a steep price. MY THOUGHTS: " I think the most appealing thing about this movie is that its based on true events from the directors real life. Ellen Page plays Sherry, who finds herself attracted to a group of misfits who travel under the name of SPARK. At first sight they seem like a group of street kids who are out to help one another stay off drugs and not sale themselves for money. But further on in the movie you will think differently of their heroin Harry. These kids who start off in just this group turns quickly into a somewhat cult. It's not a great movie, but its a very interesting one, especially knowing these events took place. So give it a chance.. You may find it as interesting as I did if nothing else. Not Ellen's best work, but she was great in it like everything else she does."

Ellen Page never disappoints, thought the overall film doesn't fully deliver. It's as patchy as Ellen's hair in places and lulls in the middle, the film explores the notion of cult mentality and in an interesting way. As I watched it, I was reminded of a number of people in my youth. Aspects of the film don't engage you enough and therefore at times you don't really care enough abou tany of the characters because of it.

Okay. Ellen Page is, as if there was any doubt, a major talent. Here she plays a lost child, Sherry, who falls under the spell of Harry, a charismatic leader of a group that advertises itself as a safe haven for disaffected youth. After a journey that was sobered by a tragic accident, Sherry arrives at the group's compund and finds that all is not as it appears. By turns wanting to fit in, and then turning defiant, Ms Page nails a child whose mother has abdicated her authority over her daughter, and who is looking for a place to belong. Sherry's search for acceptance is further complicated when her mother shows up at the compound and winds up joining the group as well. Sherry believes herself singled out for "special" attention by Harry and then is punished for breaking the rules. It takes another confrontation and a subsequent tragedy to propel Sherry out of the confines of the cult and back on the road, but this time with another lost soul. This viewer hopes that Sherry will be alright, but nothing is assured. Even with a buzz cut, Ms Page lights up the screen. Bravo!
See Details