Moy drug Ivan Lapshin (My Friend Ivan Lapshin)
(1984)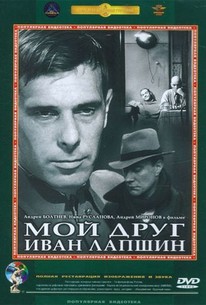 AUDIENCE SCORE
Critic Consensus: No consensus yet.
Movie Info
Alexei German's third film as director is based on stories written by his father, prominent author Yuri German. The mostly black-and-white film begins with a present-day color sequence, then reverts to monochrome and the freezing winter of 1935, when the narrator was nine years old. The boy lived in an apartment with his father and two other men, Police Chief Ivan Lapshin (Andrei Boltnev) and his officious underling (Alexei Zharkov). The story focuses on Lapshin as he tracks down a gang of crooks in his provincial Russian village, helps his recently widowed friend, and enters into a tentative relationship with an actress (Nina Ruslanova). Capable direction by German and a talented ensemble cast make this detailed look at the pre-purge Soviet Union both entertaining and richly rewarding. ~ Robert Firsching, Rovi
Critic Reviews for Moy drug Ivan Lapshin (My Friend Ivan Lapshin)
All Critics (3) | Top Critics (1) | Fresh (2) | Rotten (1)
Beneath the camouflage of the look of time past, ''Ivan'' is makeshift melodrama.
The film is challenging, German playing with time, film stocks and shooting styles, his cinema fractured to give the abstract impression of distant memories...once what German's trying to do sinks in, Lapshin becomes a potent symbol of the Stalinist era.
As "fifty years and five blocks" would imply, memory is viewed here as something slippery; almost tangible yet just out of reach.
Audience Reviews for Moy drug Ivan Lapshin (My Friend Ivan Lapshin)
½
a tough film if you're not prepared for german's style of wandering camera, overlapping conversations, and subtle ambiguity. in fact the director has stated he doubts western audiences can ever fully appreciate it, due to the specific period of history invoked. set in flashback in 1935, before the stalinist purges and after the great famine, it's a tale told by an old man about his father and his friends and the apartment they shared in those days when it seemed things could only get better and no one knew what was to come. one of the inhabitants is a chief of the secret police, idealized in the boy's memory as a generous, principled and courageous man, ivan lapshin. the first half gives us some sense of the man's temperament and relationships, the second is more focused on a police investigation into a brutal gang of killers. a fascinating array of stunning images of a bleak soviet winter long ago, vastly rewarding if u can adjust to its' unique rhythm
Stella Dallas
Super Reviewer
Moy drug Ivan Lapshin (My Friend Ivan Lapshin) Quotes
There are no approved quotes yet for this movie.
Discussion Forum
Discuss Moy drug Ivan Lapshin (My Friend Ivan Lapshin) on our Movie forum!