Mr. Blandings Builds His Dream House
(1948)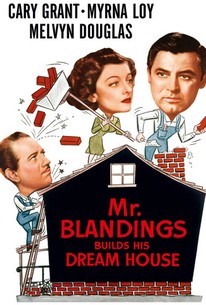 Mr. Blandings Builds His Dream House Photos
Movie Info
What The Money Pit and Funny Farm were striving for is here in all of its glory. For anyone who has ever remodeled or built or even just owns their own home, this is the one to see. A classic, this story has Cary Grant at his funniest as an advertising executive who gets tired of the city life and moves to the country. With Loy and Douglas in supporting roles, its family entertainment with the classic Grant style.
Critic Reviews for Mr. Blandings Builds His Dream House
Audience Reviews for Mr. Blandings Builds His Dream House
An advertising executive moves his New York family to Connecticut and involves them in a real estate swindle. Cary Grant, Myrna Loy, and Melvyn Douglas are all great actors, but even they can't save this film from banal mediocrity. The central conflict is Jim Blandings's pursuit of an American Dream on steroids and a entitled sense of opulence, but this conflict isn't really resolved because Blandings never tones down his ambitions or does anything to earn his privileged opinion of himself. The plotline about Muriel's potential affair with Bill doesn't have any legs either because, like Jim should, we trust her implicitly. Some of the supporting characters are -- "Yep" -- mildly amusing, but even a chuckle didn't escape me. Overall, just like its more modern imitator, The Money Pit, this film is pointlessly unfunny.
Jim Hunter
Super Reviewer
Great chemistry between the cast members keeps Mr. Blandings from being a real bore. It's got it's moments, but it's nothing to flip for.
Ken Stachnik
Super Reviewer
Grant and Loy make a great team in this hilarious comedy. I love it, and I recommend you see it too.
Mr. Blandings Builds His Dream House Quotes
| | |
| --- | --- |
| Henry Simms: | Mrs. Blandings, where you have the sewing room located will put the fireplace chimney right in the middle of the room, giving you a space roughly the shape of a square donut. While this would certainly be quite warm in the winter, it would otherwise be of doubtful utility. |
| | |
| --- | --- |
| Bill Cole: | You've been taken to the cleaners, and you don't even know your pants are off. |
| Muriel Blandings: | I refuse to endanger the lives of my children in a house with less than four bathrooms. |
| Jim Blandings: | replies: For 1,300 dollars they can live in a house with three bathrooms and ROUGH IT. |
| Joan Blandings: | Oh look. Mother's diary. It's slightly torrid. |
| Jim Blandings: | What's with this kissing all of a sudden? I don't like it. Every time he goes out of this house, he shakes my hand and kisses you. |
| Muriel Blandings: | replies to Jim: Would you prefer it the other way around? |
| Bill Cole: | The next time you're going to do anything or say anything or buy anything, think it over very carefully. When you're sure you're right, forget the whole thing. |
| | |
| --- | --- |
| Jim Blandings: | This little piggy went to market. A meek and as mild as a lamb. He smiled in his tracks. When they slipped him the axe. He KNEW he'd turn out to be Wham! |
| | |
| --- | --- |
| Muriel Blandings: | I want it to be a soft green, not as blue-green as a robin's egg, but not as yellow-green as daffodil buds. Now, the only sample I could get is a little too yellow, but don't let whoever does it go to the other extreme and get it too blue. It should just be a sort of grayish-yellow-green. Now, the dining room. I'd like yellow. Not just yellow; a very gay yellow. Something bright and sunshine-y. I tell you, Mr. PeDelford, if you'll send one of your men to the grocer for a pound of their best butter, and match that exactly, you can't go wrong! Now, this is the paper we're going to use in the hall. It's flowered, but I don't want the ceiling to match any of the colors of the flowers. There's some little dots in the background, and it's these dots I want you to match. Not the little greenish dot near the hollyhock leaf, but the little bluish dot between the rosebud and the delphinium blossom. Is that clear? Now the kitchen is to be white. Not a cold, antiseptic hospital white. A little warmer, but still, not to suggest any other color but white. Now for the powder room - in here - I want you to match this thread, and don't lose it. It's the only spool I have and I had an awful time finding it! As you can see, it's practically an apple red. Somewhere between a healthy winesap and an unripened Jonathan. Oh, excuse me... |
Discussion Forum
Discuss Mr. Blandings Builds His Dream House on our Movie forum!