Mrs. Dalloway
(1998)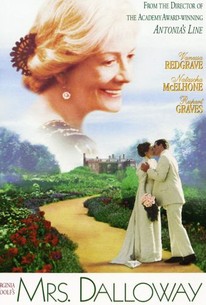 Movie Info
Virginia Woolf's difficult 1925 novel about a woman reflecting on choices made 30 years earlier is a smartly conceived, beautifully executed study of four intersecting lives in Edwardian England.
Rating:
PG-13 (For emotional elements and brief nudity)
Genre:
,
Directed By:
Written By:
In Theaters:
On DVD:
Runtime:
Studio:
BMG
Critic Reviews for Mrs. Dalloway
Audience Reviews for Mrs. Dalloway
½
I liked "The Hours" better, but this is a good movie. Its set in the period between WWI and WWII, and to me it seems Victorian, so realize that. Understand that it focuses on two people who don't know each other: Septimus a shell shocked veteran, and Clarissa an upper class housewife. Also understand that the movie jumps back and forth between the past and the present of Clarissa's life. If you understand that you will be understand the movie. Kind of a downer, but makes you think about what is important to people.
Brandon Stocks
½
What did you expect from me? You know how much I love period pieces especially one that are particularly dull. Are reviewers swayed by the existence of corsets to continually rave about these pieces? Part of me thinks that is the case.
John Ballantine
Super Reviewer
½
Mrs. Dalloway (1997) Mrs. Dalloway The Novel by written by Virginia Wolf. This film version of Mrs Dalloway was made in 1997 by Dutch feminist film director Marleen Gorris (maker 1 of my fave films- Antonia's Line). It was adaapted from Woolf's novel by British actress Eileen Atkins and starred Vanessa Redgrave in the title role. Redgrave is Dalloway –hosting dinner parties which the main subject of the film. In Mrs. Dalloway all of the action, excepting flashbacks, takes place on a single day in June. It is an example of stream of consciousness storytelling; every scene closely tracks the momentary thoughts of a particular character. Very interesting British movie. Kudos go to all who participated in making this wonderful film. Vanessa Redgrave, as usual, is perfect as an aging dowager who settled for the "safe" path in life instead of seeking adventure and taking risks. When her old flame reappears, she reevaluates her choices and second-guesses the paths that she chose. The film also has a sub-plot about a shell-shocked World War I veteran who is in emotional torment and is inconsolable. The film works on two levels. It shows the interaction between proper British people who speak politely to one another, but the viewer senses that there are fierce and passionate undercurrents and important thoughts that seems to be unspoken. In addition, the film is a clear indictment of the stuffy and snobby British society of Post World War I England, in which a party could be of such importance that a person's reputation could hinge on its success. There is also a feminist slant in the movie. Can a woman who spends her time at home making parties and pleasing her husband ever feel fulfilled? Did Mrs. Dalloway make the right decision in "playing it safe" in life? That is up to the viewer to decide. Meanwhile, revel in the fabulous nuanced performances, the witty dialogue and the beautiful cinematography. This film is excellent.
dfw foreignbuff
Mrs. Dalloway Quotes
| | |
| --- | --- |
| Sally Seton: | I've come to believe the only thing worth saying is what you really feel. |
| | |
| --- | --- |
| Clarissa Dalloway: | You want to say to each moment, "Stay! Stay! Stay!" |
| | |
| --- | --- |
| Clarissa Dalloway: | Why do I do these things? Why seek pinnacles and stand drenched in fire? I feel burned to a cinder. |
Discussion Forum
Discuss Mrs. Dalloway on our Movie forum!