Mudhoney
(2003)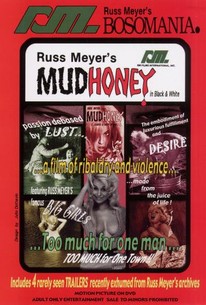 AUDIENCE SCORE
Critic Consensus: No consensus yet.
Movie Info
California McKinney (John Furlong) is hitchhiking to the state he was named for after serving a five-year sentence for manslaughter. He runs out of money in Spooner, MO, and finds work at a farm run by Lute Wade (Stuart Lancaster) and his niece, Hannah Brenshaw (Antoinette Christiani). All Calif wants is to do is work quietly until he can save enough money to keep on moving, but Hannah's drunken husband, Sidney (Hal Hopper), takes it upon himself to verbally and physically abuse him, as he does his own wife and any one else who crosses his path. Sidney spends most of his time drinking corn liquor at the local whorehouse and bragging about his plans to sell the farm after the sickly Uncle Lute dies. However, the goodhearted Calif and the long-suffering Hannah are falling in love, and Lute arranges his will so that Sidney can't lay claim to the estate after his death. The desperate Sidney plots with the local preacher (Franklin Bolger) to exploit the small town's gossipy nature with lies about Hannah's virtue, though his conniving is undone when he commits an insane, jealous crime and finds himself the target of a bloodthirsty vigilante group.
Critic Reviews for Mudhoney
Audience Reviews for Mudhoney
Being a Russ Meyer movie, Mudhoney full of extreme, over-the-top characters and craziness. And big boobs. As easy as it is to dismiss this movie as a sleazy excuse to see stacked women naked, there actually is a story lurking around. Sure, you've probably heard it before dozens of times but still. The finale is pretty great and even if Meyer didn't include the obvious... assets, Mudhoney would still make a great B-movie.
Michael Gildea
Super Reviewer
½
While director Russ Meyer isn't perhaps the first film maker you'd go to for a morality tale, his work has an interesting take on the struggle between good and evil, often within the same character. The theme is how one man's evil can bring a whole community down to his level. Not content with having one buxom blonde in his film, Meyer added the two sexually available sisters who wear low cut dresses open to the navel. Their purpose is pure titillation, as they don't advance the story any, and simply provide temptation for the male members of the cast, so an extra half-star for that.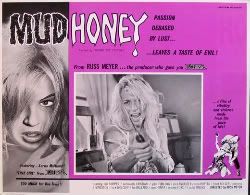 El Hombre Invisible
Super Reviewer
½
'Mudhoney' Good, Sticky, Sleazy Trash What else would you expect from B-movie meister Russ Meyer? Hal Hopper as Sidney Brenshaw is one of the slimiest, most loathesome screen characters ever.
Doctor Strangeblog
Super Reviewer
Mudhoney Quotes
There are no approved quotes yet for this movie.