Murder Party
(2007)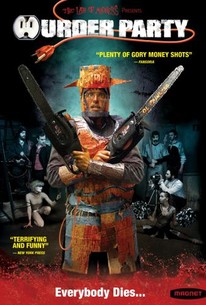 AUDIENCE SCORE
Critic Consensus: No consensus yet.
Movie Info
A loser finds out the hard way there are worse things than spending another night at home in this horror comedy from first-time director Jeremy Saulnier. Christopher (Chris Sharp) is a nebbish who can't get any respect at work, couldn't get a date if his life depended on it, and has practically no social life. Christopher figures he's going to be stuck at home on Halloween until he finds an invitation for a "murder party" on the sidewalk; expecting a costume party with fun and games, he slaps together a cardboard "suit of armor" and shows up for the festivities. The bash is being thrown by a group of bohemian artists who are rather surprised Christopher has shown up -- he's the only stranger to take the bait and arrive for their party, in which their guest-of-honor is actually going to be killed in the name of creativity (and impressing a jaded patron who finances their projects). Before long, Christopher begins to realize what's going on, and struggles to find a way out of the warehouse where the party is being held, while the artists begin to turn on one another and the blood starts to flow. Murder Party won the Audience Award for Best Narrative Feature at the 2007 Slamdance Film Festival.
Critic Reviews for Murder Party
All Critics (4) | Top Critics (1) | Fresh (4) | Rotten (0) | DVD (2)
After an hour of entertainingly crass buildup, pic erupts in a riot of outrageous, quite funny violence that leaves almost no one alive. Punk/metal soundtrack is in keeping with gonzo tone.
February 2, 2007
Surprisingly well-acted, fast-paced, frequently amusing and packed with some really crazy kills near the end.
Audience Reviews for Murder Party
½
There are a lot of interesting concepts here surrounding the tale of a guy who thinks that he is going to a Halloween party but ends up potentially being murdered. The problem is in the execution. The story meanders and goes to unrewarding places leading to a hobbled together ending.
John Ballantine
Super Reviewer
I suppose it's an OK film considering the low budget, which has a misleading poster... It's sort of a not so funny black comedy featuring interesting characters. Arts students are not to be messed with.
Sylvester Kuo
Super Reviewer
½
Humorous indie low-budget slasher comedy. Gets a little silly at times and there aren't many laugh-out-loud moments, but it's an interesting little film with OTT splashes of bloody violence during the last 25 minutes. A good one to watch around Halloween for a bit of fun.
Murder Party Quotes
There are no approved quotes yet for this movie.