Murder, Set, Pieces
(2004)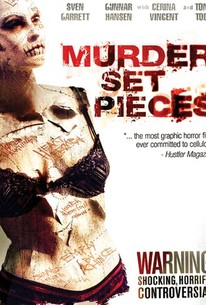 Murder, Set, Pieces Photos
Movie Info
A psychopath cuts a bloody swath across Nevada in this gruesome horror story. The Photographer (Sven Garrett) is a nameless German fashion illustrator with an ugly past (his grandfather was a friend and associate of Adolf Hitler) and a profoundly violent nature. Working out of Las Vegas, The Photographer is a vicious serial killer who attacks men, women, and children with equal brutality. The Photographer periodically dates a woman named Charlotte (Valerie Baber), who has a younger sister named Jade (Jade Risser), but prefers to devote his spare time to mutilating Sin City's riffraff. Jade senses that there's something evil about her sister's boyfriend, and when Charlotte disappears, Jade begins playing amateur detective, unaware of just how dangerous her quarry truly is. According to the film's publicity materials, Murder-Set-Pieces features no fewer than 30 onscreen murders, and 55 gallons of stage blood were used during the shoot.
Critic Reviews for Murder, Set, Pieces
Audience Reviews for Murder, Set, Pieces
½
Although the acting is atrocious, and the story doesn't flow that well, Murder-Set-Pieces is still really entertaining. I can't say it's a great movie, but I liked it a lot. The violence was awesome, and the message behind it will definitely make you think... if you can understand German. Yeah, here's the reason everybody on this page is saying the movie didn't make sense. This film is in English, but at times the photographer will speak German. And it's ONLY when he's speaking German that his actions and story are explained. I enjoyed it, because I can understand German. Murder-Set-Pieces is a commentary on the Nazis' trivialization of sex and childbirth, resulting in a neglected child who grew up hating his mother and all women like her. Unless you don't understand German, then it's just gory fun... with bad acting.
Alex Matarese
Super Reviewer
½
This "movie" promotes itself for being shocking, banned in the UK, and refused for processing by three film developing studios. It's not shocking, but I for one would ban or not process this film because of how absolutely poorly made it is. I don't even know where to being with my laundry list of complaints. It's edited like someone with severe memory loss and acute ADHD did it. It's written without any regard for form, story, originality, or genuine talent for horror. I only believe there was a person on set, one Nick Palumbo, who called himself a director, but didn't actually bother directing anything other than stock body parts and corn syrup. It's all intentional shock and no genuine scare. On top of that, it's not even thoughtful gore. The blood coloring is off and different in every scene; the splatters are utterly without the logic of physics and more than gratuitous. The majority of props are very weak in terms of appearing real or showing originality; the one exception is a Jack-in-the-Box of a skull which contains a miniature of the killer in it. And this script, more holes than swiss cheese! This killer would have been caught several times over by the end of the film; he is a sloppy killer AND he shots someone in an occupied and no doubt video-monitored adult bookstore (which by the way happens because of an utterly badly placed sudden armed robbery). The film layers on bad horror cliches like an overstuffed sub sandwhich; within two seconds of each other, the killer brandishes a chainsaw and the protagonist gets a butcher knife for defense. I'm not even going to go into how lame it is to throw around Nazi familial connections and serial killer flashbacks to a childhood of mother hatred. This is worth seeing to remind one to treasure the great films that are out there by showing the utter crap in comparison. Shock lovers and gore hounds, prepare for disappointment, as this garbage is not in the same league as most of the video nasty "banned" faux-snuff favorites. I cannot say too many times how much of a waste of time and red dye this film is. AVOID AVOID AVOID Only see it if you MUST fulfill a list of shock films, but then only to note how poor is in comparison to the rest of the field.
_kelly .King
Super Reviewer
Patrick Dolan
Super Reviewer
Murder, Set, Pieces Quotes
There are no approved quotes yet for this movie.