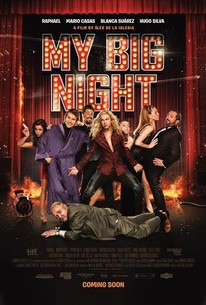 My Great Night
2015, Comedy, 1h 38m
21 Reviews
100+ Ratings
Rate And Review
Movie Info
During a long television taping for a New Year's Eve program, people's lives begin to clash and explode into the open.
News & Interviews for My Great Night
Audience Reviews for My Great Night
I haven't seen an Alex de la Iglesia film that I've disliked. And, hopefully, I never will. I honestly don't think I can do the insanity that this movie contains justice, but I'm sure gonna try. A fair bit of warning though. And that is the fact that if you are unfamiliar with several aspects of Spain's culture, then some of this movie's scenes will go right over your head. For example, a lot of the stuff with Alphonso, who's an pompous and arrogant exaggeration of actual singer Raphael, who actually plays the character, might not click with an American crowd simply because they are not aware of who Raphael is, his songs and how big of a star he was in his native country and other Latin American countries. Alphonso even performs Raphael's real songs and they use that as a constant source of comedy, to great success if I can say so myself. So, really, first things first, I have to give Raphael a lot of credit for playing a role that made him out to be the biggest dick on the face of the earth. He even has a dressing room that makes him look like a Star Wars villain. He was a surprisingly good sport. But the film doesn't just cover that. Like I honestly can't even begin to tell you how much stuff there's actually going on here. To describe it simple terms, this is basically a film about everything going wrong at the filming of one of those New Year's Eve TV specials. This might be an unfamiliar concept to Americans, but they do those here and in Spain, apparently. That's pretty much the only fucking way I can describe the film in simple terms. Going more into detail, and this may take a while so strap in, the film covers many stories such as one of the extras realizing that the woman he has fallen in love with is bad luck for anyone that even gets near her, he finds this out once his mom blows up his sister's house and his sister's flight to Paris is delayed due to a bomb threat, among other events. There's a small feud between Alphonso, an aging star, and Adanne, the new pop sensation, over who's gonna perform first. Alphonso also has an adopted son (who ends up not being adopted) that has convinced one of Alphonso's biggest fans, who has tattooed lyrics of his songs on his body, as well as use those same lyrics in monologues, to kill him while Alphonso is performing. The hosts of the celebration are also constantly feuding with, and insulting, each other due to their perceived notion that the other is trying to sabotage them for the benefit of their own career. That's a little confusing, but it makes sense to me. They end up fighting on stage and have to be dragged off by the crew. There's Adanne and his agent going after the woman who, after giving Adanne a blowjob, spits out his semen onto a vial in order to get herself pregnant, so she can sue Adanne out of a lot of money when the baby is born. There's also another character who wants the semen so he can also blackmail Adanne. There's this entire subplot of a riot taking place outside of the studio the filming is being done after Benitez, Santiago Segura from the Torrente series, lays off over 500 people. I think that I got it all, but this movie really did try so much shit that it's highly likely, like a 99.9% chance, that I missed something. But yes, there's that much stuff going on in the movie. And, usually, in these sorts of movies, you just can't keep up the manic tone of, literally, everything going to shit without it dragging at some point. And I'm not saying that it didn't drag, in some small parts, but goddamn if they didn't come close to hitting a grand slam. Seriously, I think this movie is a work of genius simply because of that fact. Keeping up the energetic and manic tone of everything falling apart, building up to a crescendo where there's just absolute pandemonium at the end of the movie. That's difficult to do. And not to mention the fact that, if I'm being completely honest, I thought this movie was absolutely hilarious. I really did. Alex de la Iglesia has written some fairly pitch-black comedy films, Witching and Bitching being a great example of one. Or The Last Circus. You should see both of those movies. You should also see this one. While the movie definitely goes to some pretty weird places, it's never as dark as those two previous films and, to me, because of it, that makes this one of his most accessible movies. I believe Iglesia didn't compromise his vision of the movie to appease anyone, this is just the movie he wanted to make. But, to me, this is an easier sell than the two movies I just mentioned. Though The Last Circus and Witching and Bitching have very distinct and unique visual styles that certainly helps a lot. I digress, not every of the movie's jokes are hits, you can't keep up that rate without some eventual drop-off. But that drop-off is, thankfully, very minimal. I was laughing from beginning to end and even when I wasn't, I was still having a blast. Does it have a great narrative? Not necessarily. Though, really, if the point of the film was for everything to fall apart to the point that it was completely insanity, where people are getting shot, others are being choked and punched, then the movie pretty much does have a great narrative. It got to where it wanted to be in as efficient a manner as is possible. I said I couldn't do this movie justice with my review and I didn't. But trust me when I say that, even if you don't like the movie, you will not be bored watching this. As far as I'm concerned, however, this movie was pretty fucking great and it was a hell of a way to finish off a terrible 2016. This is as easy a recommendation as I've ever given. I loved this.
See Details