My Bloody Valentine
(1981)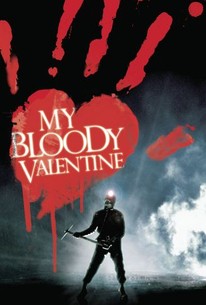 My Bloody Valentine Photos
Movie Info
This Canadian slasher film features a disgruntled miner cutting out people's hearts with a pick-axe. Most of the film takes place in the mine itself, where partying teens are pursued by the maniac in some surprisingly well-directed chase and stalking sequences.
Critic Reviews for My Bloody Valentine
Audience Reviews for My Bloody Valentine
½
During the late seventies and eighties there was a clear trend of slasher genre horror films based around holidays ("April Fool's Day," "Halloween," "Friday the 13th" etc.) While following in this vein, there's something original and dark about this film in contrast. Most of the film is set in the mines of central Canada, where a set of old murders haunts a quiet little town. A lot of the action revolves around a love triangle, the legends of the past, and being young and witless, with nothing to do. The last section of the film is entirely set in the bowels of a blackened mine, where the tunnels and overhead shafts provide plenty of hiding spots for a maddened serial killer. While this film takes great strides to not be the same as others of its caliber, it's still not very memorable. The killer is lame, the twist comes out of nowhere, the characters are idiotic and cowardly, the main female character is irritatingly frightened, and constantly needs saving, and the ending is ridiculous. Though I haven't seen the remake, I recommend it over this film, which is working with basically nothing but visuals, which I can only hope got better by 2009.
Spencer S.
Super Reviewer
At a first glance, Rotten Tomatoes seems to show that this film is a relatively poor film, with it's roughly 33% rating on the Tomatometer. However, if you can ignore this and actually watch the film, you can see exactly why it was remade in 2009. My Bloody Valentine is the story about a mining village where a horrible mining accident happened due to a few miners deciding to leave the mine early for a Valentine's Day party. However, many years later, the people of the town decide to hold another Valentine's party, but someone doesn't want them to... The story is quite clever and creative, even though not actually very scary as a film. It is a good, confident slasher film, with some very clever use of symbolism (upside down hearts, along the same lines of the upside down cross Satanists use) and a clever ending. Although it is not the greatest film of all time, it is definitely one that is worth your time. It is one of those cult classics you have to watch, just to know what the fuss was about!
BG Movie Reviews 2011
Super Reviewer
A really good 80s slasher with a decent body count, good pacing and a memorable killer, and the twist ending was a genuine surprise for once. Due to MPAA cuts it's not the most gory of slashers compared to others of the time period but it's still entertaining from start to finish.
My Bloody Valentine Quotes
| | |
| --- | --- |
| Sarah: | "T.J. I have to see him!" |
| Sarah: | T.J. I have to see him! |
| | |
| --- | --- |
| T.J.: | "Same place I always go this time a day. For a beer and a really good nosepick.: |
| T.J.: | Same place I always go this time a day. For a beer and a really good nose pick. |
| | |
| --- | --- |
| Happy: | Damn kids. I'll show them,piss on Harry Warden will they? |
| Happy: | Damn kids. I'll show them, piss on Harry Warden will they? |
| | |
| --- | --- |
| T.J.: | We gotta get the hell out of here! Harry Warden's back! He's killed Sylvia & Dave up top! |
Discussion Forum
Discuss My Bloody Valentine on our Movie forum!