My Date With Drew
(2004)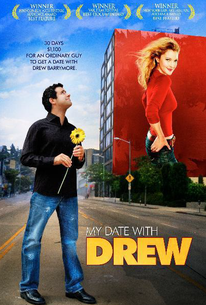 TOMATOMETER
AUDIENCE SCORE
Critic Consensus: A love-it-or-hate-it stalkerazzi documentary, My Date With Drew effectively draws on America's celeb-obsessed pop culture so that viewers either unabashedly identify with it, or are filing restraining orders on Drew Barrymore's behalf.
Movie Info
For years, Brian Herzlinger has had a crush on a pretty girl. There's nothing so strange about that, or even that the girl in question is the famous actress Drew Barrymore. What is unusual is that Herzlinger decided to do something about it. Herzlinger was flat broke and out of work when he won 1,100 dollars on a game show, and decided it was time to make his dream come true -- and make a movie about it at the same time. Herzlinger and a friend bought a high-end video camera at an electronics store with a 30-day, "no questions asked" return policy, and with his 1,100-dollar bankroll, they set out to find a way to meet Drew Barrymore and have Brian take her out on a date before they ran out of cash and had to return the camera. My Date With Drew is the document of Herzlinger's struggle to live out a regular guy's dream. My Date With Drew won the Audience Award at the 2004 HBO Comedy Arts Festival.
Critic Reviews for My Date With Drew
Audience Reviews for My Date With Drew
½
Interesting enough to follow through to the end. Drew Barrymore is a sweetheart.
Cynthia S.
Super Reviewer
½
"30 Days, $1100, For  an Ordinary Guy to get a Date with Drew Barrymore" I did not anticipate liking this documentary as much as I did. Brian takes a risk and tries to get a date with his dream girl, Drew Barrymore. He goes through endless amounts of people to try to get the date. We see Eric Roberts and Corey Feldman interviewed. Barrymore's facialist is in it. A couple of screenwriters have interviews, including John August who wrote Charlie's Angels. The cool thing about it, is just how into it the three filmmakers are. Brian's friends care; I'm not going to say as much, but they truly care if Brian ends up getting the date. Why this movie is easy to enjoy is because Brian is a likable guy. He's nice and basically just a normal guy. He doesn't have the most confidence in the world and that adds more likability to the movie. If he was a confident guy, it would have taken all the fun out of the movie. The movie actually turns out being pretty funny, but not in the way I thought it would be. I thought I would think it was funny because some loser guy is trying to get a date with Drew. That is not how it turns out in the end. 
Melvin White
Super Reviewer
I really enjoyed this documentary about a plain guy trying to get a date with a superstar. Filmed with a simple video camera and an $1100 budget we get to see Brian try and make his dream come true. We see as he uses every connection he has to try and get a message to Drew, we seem him dodge his bank as he runs out of cash, we see him at his worst and his best. At times I found myself yelling at him that he needed to get a job or use some of the budget to pay his bills but he didn't and I'm glad. He kept on going and in the end he made a really enjoyable documentary.
Jason Spencer
Super Reviewer
My Date With Drew Quotes
There are no approved quotes yet for this movie.