My Dinner with André
(1981)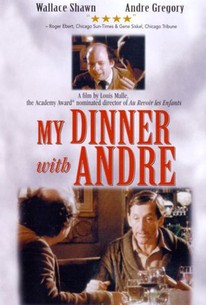 My Dinner with André Photos
Movie Info
The quintessential "talk" film. Theater director Andre Gregory meets his old friend actor/playwright Wallace Shawn at an upscale New York restaurant to catch up on each other's lives. Gregory has travelled the world in search of alternate methods of creative and spiritual expression. Shawn plays straight man (and devil's advocate) in this unusual conversation and reminds Gregory of the more down-to-earth pleasures of New York life. While Shawn is a pragmatist, he is understandably impressed by Gregory's exploits. The screenplay was also written by Gregory and Shawn, a "best-of" collection of several tape-recorded conversations between the two. Director Louis Malle provides appropriately minimal direction. Gregory, Shawn and Malle collaborated again in Vanya on 42nd Street.
People Who Like this movie also like
News & Interviews for My Dinner with André
Critic Reviews for My Dinner with André
Audience Reviews for My Dinner with André
½
There isn't really much to say about "My Dinner with Andre" other than that it's a simple, dialectic piece of filmmaking that feels like a play. It's a conversation between two interesting people who are educated, slightly enlightened, but forever questioning of the structure of the universe. Ebert has said, "Someone asked me the other day if I could name a movie that was entirely devoid of clichés. I thought for a moment, and then answered, 'My Dinner with Andre.'" This may be because of its unassuming concept, but also because there really is nothing like this film around. Some people find the conversation boring and the mood morose, others think the political and socio-economic values of the conversation are too opposed to their own ideals. To love this film you must love dialogue, subtlety, and the sweet surrender of the theater. Otherwise this film will bore you to tears. If you philosophize, wonder, or debate the many merits of the universe, this is a film that will speak to you on an atomic level. I myself found the two men interesting, but not fascinating, and that's a good distinction. You want to feel like you yourself could speak about travel, morality, and the sanctity of art, or else you're lost. I felt right at home among the good food, good friends, and the New York streets passing by during the ending cab ride home.
Spencer S.
Super Reviewer
"Tedium" is the only thing on the menu -- served raw.
Christian C
Super Reviewer
First, the truth: this film put me to sleep 4, count 'em, 4 times of trying to watch it (but it was good sleep). Ahh, but the 5th's time the charm wherein I made it through to discover this overlong conversation between two distinctly different types of lives about their differences wasn't too awful after all. The first part, less conversation than monologue, will have you snoozing comfortably once you get the drift ("... the life of an adventurer/vagabond ... its the only way to live!!"). Only when Shawn stops merely listening and opens up his can of psuedo-intellectual whoop ass (" I don't think you have to go to Mt.Everest to have a meaningful experience, I think you could do it right in the local cigar store if you were meaning to!") does the thing catch fire.
Kevin M. Williams
Super Reviewer
My Dinner with André Quotes
| | |
| --- | --- |
| Himself: | A baby holds your hands and then suddenly there's this huge man lifting you off the ground, and then he's gone. Where's that son? |