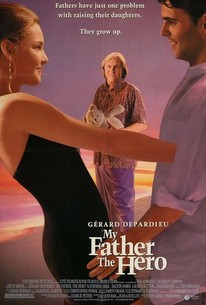 My Father, the Hero
1994, Comedy, 1h 30m
15 Reviews
10,000+ Ratings
Where to watch
Rent/buy
Rent/buy
Rent/buy
Rate And Review
My Father, the Hero Photos
Movie Info
While on a tropical vacation with her father (Gérard Depardieu), a teen (Katherine Heigl) passes him off as her lover, to impress a boy (Dalton James).
News & Interviews for My Father, the Hero
Audience Reviews for My Father, the Hero
An OK movie. I don't think it would have been as...acceptable today because of the pedophilia aspect?

My Father The Hero is very funny Movie.

Gérard Depardieu is such a cool Actor. I love his Movies. He is a Multi Talented Actor. Just Adorable. <b><u> I just love this Movie. One of my Favorate Scene: </u> Nicole: Daddy, can I talk to you about something? Andre: Of course. You can talk to me about anything. Nicole: Anything? Andre: Anything at all. What is it? Tell me. Nicole: Promise not to yell. Andre: I promise. Now tell me. Nicole: It's really not that bad. Andre: Tell me. Nicole: You said you wouldn't yell. Andre: That was not yelling, trust me. Nicole: I told Ben you weren't my father. Andre: Why? Nicole: Because I wanted to impress him. Andre: What did you tell him I was? A famous pianist? A wirter? What? Nicole: [she takes a deep breath] I told him you were my lover. Andre: Are you serious? Nicole: Yes. Andre: Are you out of your mind? What the hell were you thinking about? Nicole: You're yelling. Andre: Of course I'm yelling! My daughter tells some stranger that her father is her, her... Nicole: *Lover*! Andre: Oh, God! I hate that word. It's so... so graphic. Who else thinks this? Nicole: A few of the other people. Andre: How many of them? Nicole: All of them. Andre: All of them! Incroyable! I've been walking around here with you the past few days. They think I'm child molester! Nicole: [she starts to cry] You're yelling again. Andre: Why... why do you make up such stories? Nicole: I don't know. It just comes naturally to me. Andre: So it's genetic. Is that it? Nicole: Yes. No! I don't know. Andre: You have to tell him the truth. Nicole: I tried to. Believe me, it's not that easy. I care about him. Andre: [he smiles at her] Do you love him? Nicole: Yes, I think so. I mean, yes, I do.

A past childhood favorite and a guilty pleasure of today.
See Details