My Father's Glory (La Gloria de Mon Pere)
(1990)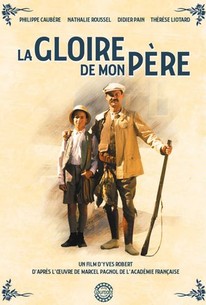 My Father's Glory (La Gloria de Mon Pere) Videos
My Father's Glory (La Gloria de Mon Pere) Photos
Movie Info
My Father's Glory (La Gloire de Mon Pere) is the first of French director Yves Robert's two films based on the memoirs of filmmaker/author Marcel Pagnol. In the early 1900s, young Marcel (Julien Ciamaca) makes regular trips with his family to their quaint farmhouse in the countryside surrounding Provence. One summer, Marcel's uncle (Didier Pain) comes along. Uncle's Catholicism immediately clashes with the agnoticism of Marcel's schoolteacher father (Philippe Caubere). During a pheasant hunt, the uncle hopes to prove his superiority over the father. So what happens? Take a glance at the film's title for a clue. My Father's Glory was followed up by the equally delightful My Mother's Castle (91).
Audience Reviews for My Father's Glory (La Gloria de Mon Pere)
Between a 7/10 and 8/10, this is a poignant memior of youth, of innocence, of France, and of the early 20th century.
Lee Mayo
Jean De Florette Manion of the Spring and My Fathers Glory. 3 of the greatest films from France 1986 to 1991 Highest Recommendation. I will put more here later I hope to see this movie again this week.
ld pierce
I had never been interested in visiting Paris until I read Ernest Hemingway's A Moveable Feast. Paris had flesh after that. I could visualize it. The details Hemingway relates make me wish I could have been a starving artist in love as he was at the time. Maybe I could have run into Ezra Pound. My Father's Glory, a film about the memoirs of Marcel Pagnol, did the same for me in regards to Marseille and Aubagne. The movie never tries to portray a realistic Marseille at the beginning of the 20th century. Instead, it's an idealized remembrance of Pagnol's childhood in which no one gets into a quarrel that can't be solved by mealtime, and everyone feels the joys of life and love. The movie takes place throughout Pagnol's childhood; however, the second half of the film deals with a particularly vivid summer holiday in which Pagnol escapes into the French hills. Along the way, Pagnol takes pride in his father's successes and also meets a friend who teaches him how to trap fowl and navigate the landscape. A favorite scene of mine has the two friends hunkered in a cavern watching a lightning storm play out among the scrublands below them. The back of the DVD jacket will tell you that the plot revolves around a hunting match, but nothing could be further from the truth. The movie has no major conflict, no problem that must be solved. There's a conclusion, and the young Pagnol does learn a valuable lesson; yet, it's an afterthought. The meat of the movie is the photography and whimsical interaction between characters. It's more a series of short sketches than a cohesive story. Delightful is the best adjective to use. I found myself chuckling on several occasions at the comic timing. It's not funny, but it is very amusing and endearing. This is a rare movie in which you do not laugh at the characters but with them. I half expected any one of the them to turn to the camera and wink just to remind me they were in on the joke too, as if to say, "It's OK. We know you're not laughing at us. Go on. Have a good time." The only bittersweet moments in the film come when we realize (along with our young protagonist) that the fun can't last. When he realizes he only has a day or two left of his holiday before going back to school, we are crushed that we'll be leaving the French countryside along with him. What I couldn't understand was how this movie wasn't nominated for the foreign language Academy Award. After checking the IMDb, I figured it out. Cyrano de Bergerac, a classic of modern French cinema, was released the same year and took the spot as France's official entry. It's too bad. My Father's Glory would have had a good chance of winning too.
Luke Johnson
My Father's Glory (La Gloria de Mon Pere) Quotes
There are no approved quotes yet for this movie.
Discussion Forum
Discuss My Father's Glory (La Gloria de Mon Pere) on our Movie forum!