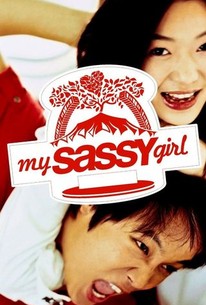 My Sassy Girl
2001, Romance/Comedy, 2h 3m
3 Reviews
25,000+ Ratings
Rate And Review
Movie Info
A college student (Cha Tae-hyun) becomes involved with a self-centered young woman (Jun Ji-hyun) who humiliates him at every turn.
Genre: Romance, Comedy

Original Language: Korean

Director: Kwak Jae-yong

Producer: Shin Cheol

Writer: Kwak Jae-yong

Release Date (Theaters): original

Release Date (Streaming):

Runtime:

Sound Mix: Surround
News & Interviews for My Sassy Girl
Audience Reviews for My Sassy Girl
There was potential here for an unconventional South Korean rom-com but, of course, there had to be the sentimental and melodramatic last act, more the former than the latter, to screw things up. Maybe screw things up isn't the right word, because this was still a fairly decent movie, but it definitely hurts the film more than it benefits it. And I know that this film isn't made for me, a westerner if you will, they're made for Koreans and their sensibilities. So, while part of me completely understands relying on tired and ineffective sentimentality, I'm also wondering why so few of these films ever really try to do something different. They even discuss this in the film, Kyun and the Sassy Girl, whose name literally escapes me, have this conversation about this novel and Kyun explains that the novel and its influence on the culture have made it so Koreans seek melodrama from their films. I have no idea if this novel exists, but I can attest to that fact. Not because I live in South Korea or anything, but because of the fact that I've watched a ton of Korean movies, and shows as well, and I would say that, about, 85-90% contain some form of melodrama. So it's obviously something cultural as opposed to the filmmakers trying to be manipulative. But this story and these characters had potential and that potential is thrown away just because the audience is expecting a certain mood in their entertainment that has to be forced in there. This isn't even the most melodramatic South Korean film I've ever seen, but I'm sick and tired of it being forced into films that don't really need them. It's a shame too, because this movie was actually fairly solid for the most part as it explores a different relationship. Imagine the 'Sassy girl', from now on referred to as SG, as a real life version of Miss Piggy. What I mean by that is that she expects everyone to do things her way, she's both verbally and physically abusive and she enjoys humiliating Kyun. But, it's clear, from her behavior that there's something deep down that is haunting her. Like our lead says, there's a sorrow in her that she tries to hide behind a smile. But, honestly, parts of her characterization left a lot to be desired. Like the fact that there's one scene, after she bails out Kyun from prison, where SG punches Kyun hard like 4 times in a row. Right in front of the cops too, so she pretty much assaulted this man in front of the cops and they did nothing. Because when a woman beats up a man, it's funny. Major LULz had by everybody. And that's a bit of a double standard, because can you imagine if SG had been a guy and Kyun had been a woman and they tried to pass this off as comedy. Can you imagine the backlash? And rightfully so. It would be more acceptable if it was satire, where the movie is obviously trying to teach you something, but a straight-up light and frothy rom-com where the dude is physically abusive towards the woman he might fall in love, eh, not as effective. Can you imagine if they also tried to pass it off as he's physically abusive because he's actually tortured deep down? It'd be even worse. I know the excuse might be that she doesn't punch him as hard as he might hit her, which is bullshit. Assault is assault, regardless of gender. It would be one thing if SG attacking Kyun was absolutely essential to the plot, but it is not. Her being physically abusive with Kyun doesn't make her seem more vulnerable to me, if that's what they were going for. It makes her far more insufferable than if she was just screaming at Kyun, ordering him around and telling him what to do. That was really my only major problem with SG's characterization, that they play up her physically abusive nature as comedy. Other than that, I think the film does a real good job at telling these characters' stories and how little by little, SG's layers start to peel away and you get a look at the person she really is when she's not putting up a front. I also liked the fact that the only reason, at first, that SG got together with Kyun was because he reminded her of an old boyfriend she had that died. Her getting with Kyun, I'm assuming, was her own way to deal with the grief and the sorrow that she had inside. That was actually a really interesting approach, but one that, surprisingly, has some depth to it. Might not be super complex, but it's something. I thought that was really cool and I think that the characters, at least, earned a sweet ending and they did get it, but the way the film got to it in the third act, with the sentimentality and everything, really did hurt the film a lot. There were some funny bits in the film, so that's what comprised most of the remaining time while, obviously, giving you some character development. If it hadn't been for the sentimentality and the melodramatics, then I would've given this film, for sure, three stars. But the fact that it was present really brought it down for me, hence why it gets the two and a half stars. There's enough good here that a lot of people will enjoy this more than me. It had its flaws and everything, but by and large, it's still a decent movie. I can't ignore everything that came before the third act and how well-executed and acted it was. So, if you must, watch until they start with the time capsule bullshit, because it's all downhill from here.

Adorable rom-com from South Korea. Based on a real story, even though it has a few cliche moves, it manages to stay original and fresh. The Hollywood remake, not surprisingly, looks like shit!

South Korean romantic comedy and a mega-hit in Asia about a boy meeting a bossy crazy girl and falling for her. I was a bit apprehensive going in, as i have a fairly low tolerance of bitch-dressed-up-as-loveable. One person's quirky and charming is another person's someone give her a good slap please. And the heroine IS a mixture of sweet and slappable, but then so is the hero, so I guess it balanced out nicely. So ... I think you'll like it. Bet its a million times better than the US remake anyway.

I love to watch Korean movies,but My Sassy Girl I found it so annoying. The lead characters were so annoying. I think a man should never hit a woman, but a woman should never hit a man also. The abuse the guy had to endure from this Sassy Girl in the movie was incredible and still he kept running after her.I guess if the roles were reversed like My Sassy Guy, and the guy was abusing the girl, I was sure that the movie was not popular and had caused rage from female viewers. My point is, I did not find the hitting part in the movie to be funny. The movie was also too long and they keep dragging about the same for too long. Simply not my type of movie.
See Details