My Son, My Son, What Have Ye Done
(2010)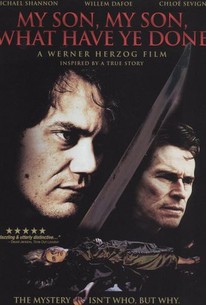 My Son, My Son, What Have Ye Done Photos
Movie Info
Brad (Michael Shannon) has committed murder and barricaded himself inside his house. With the help of his friends and neighbours, the cops piece together the strange tale of how this nice young man arrived at such a dark place... Based on a true story, this gripping and unnerving blend of deadpan comedy, melodrama and raw tragedy is fleshed out by an expert cast, including Willem Dafoe and Chloë Sevigny.
People Who Like this movie also like
News & Interviews for My Son, My Son, What Have Ye Done
Critic Reviews for My Son, My Son, What Have Ye Done
Audience Reviews for My Son, My Son, What Have Ye Done
There was an awesome team behind this, with David Lynch producing, and Werner Herzog co-writing and directing. That fact alone makes this film interesting. It's just unfortunate that the end result is rather underwhelming and doesn't really add up to much. The film is loosely based on an actual event, and involves an young actor who, obsessed with a Greek tragedy he's rehearsing, kills his mother with an antique sword. So, since everyone knows who did it, the investigation of the case is based around why he did it. Given who's involved here, that obviously means that this film is offbeat and takes an unconventional approach. When the film begins, the crime has already happened, so the film alternates between flashbacks leading up to the crime, and the investigation itself. It's sort of a horror movie, but it's more about tone, mood, and atmosphere, and the psychology of things instead of focusing on the bloodshed. There have been plenty of films already that have done the whole descent into madness thing so well that there's no real point in trying to top those or add to that collection, so here it is a case of, "we've got a crazy guy, let's just film something about him". In a way, that's cool, and kinda works. It doesn't really lead up to much though, and I never felt like I got much of a point here, but there were some high points along the way at least. The pairing of Herzog and Lynch is awesome, so it sucks that the result wasn't spectacular. There's a great cast of character players here, all fitting perfectly with the vibe common to H and L's typical works. The performances are pretty damn good, save for Sevigny who just kinda seems ot be spaced out and phoning it in. The music is great however, and the cinematography is also pretty sweet. The film has a great, creepy vibe to it, and it's a nice reminder of how these two directors can take seemingly normal places and warp them. Too bad the overall result is meandering, ponderous, and a tad too slow in the pacing department. Look, I like parts of this, a lot, but it's just a bit unfulfilling when it shouldn't be. Maybe I missed the point. All I know is that if you like either director, you are bound to find at least something to like, even if it isn't everything.
Chris Weber
Super Reviewer
Sometimes a film comes along that although it hasn't received a wide release or even a reasonable marketing campaign, it can capture your attention by the very people involved. This has prestigious director Werner Herzog; the go-to-man for troubled souls Michael Shannon; a host of talented supporting roles including the always reliable Willem Dafoe and it's executive-produced by surreal transcendentalist David Lynch. I thought it's lack of attention was maybe because the film was a stinker or maybe it was just a cult classic waiting to be discovered. Now that I know, I'd unfortunately put the film's relative obscurity in the former category. Brad McCullum (Michael Shannon) is a strange young man living in San Diego. One day, unexpectedly, he kills his mother with a sword and locks himself away in his home, claiming to have hostages. Detectives Havenhurst (Willem Dafoe) and Vargas (Michael Pena) arrive on the scene to get to the bottom of Brad's seemingly sudden act of lunacy. As this film opens it's apparent, early on, that it's going to go in a different direction. The use of music is eerie and the behaviour of the characters very off-key but then that's entirely expected when David Lynch's name appears on the opening credits. It even has a few of Lynch's regular cast members in Dafoe, Brad Dourif and Grace Zabriskie but the most apparent thing that separates this from Lynch's efforts is the absence of haunting composer Angelo Badalamenti. Without him, it's just not the same. There are several moments to be admired and those moments are mainly fashioned with a Lynchian wierdness but it's an ability that Herzog just can't get a handle on here. Even though Lynch is weird, he is never boring but Herzog certainly comes across this way. Despite it's intriguing atmosphere and sense of mystery, I found myself losing interest and losing it rapidly. The performances - as expected - are great and Michael Shannon adds another intense and off-beat character to his resumà (C) but the tone and poor script let down any impressive work delivered onscreen. In fact, if it wasn't for the reliable cast, I'd rate this even lower than I have. As an exploration of mental health culminating into Greek tragedy, it's ambitious but the sheer strangeness of it all just falls flat. In the same year, Herzog released "Bad Lieutenant: Port of Call New Orleans" which was an another exploration of one man's insanity but as impressive as that was, he doesn't achieve the same balance with this one. I always knew I was taking a chance going into this but I really didn't expect it to be as bad as it turned out to be. I held onto the fact that this it may have been misunderstood but I was, sadly, mistaken. As the old proverb goes... 'too many cooks spoil the broth'; this might have worked better had either Lynch or, especially, Herzog had a clearer idea of what they were delivering. On this occasion I'll be changing Werner's name to 'Herz-slog'. What he was formulating, I was receiving on a badly tuned frequency.
Mark Walker
Super Reviewer
½
Brad McCullum: Some people act a role, others play a part!  "The Mystery Isn't Who. But Why." I really have no idea on what to think of My Son, My Son, What Have Ye Done? It's definitely a weird and interesting film. It has some bizarre performances, especially in the case of Michael Shannon. The film is shot beautifully, and has the stamp of of both Herzog(a good thing) and of Lynch(in my opinion, most of the time, a bad thing). At times the movie is absorbing and you forget that you're actually watching a movie. At other times it began to get very tiresome and I became aware of every second of my life the film was taking up. In the end, it was actually a pretty hard film to get through, which is irritating because I really expected to like it. I love Herzog, and I definitely love the cast of Dafoe, Shannon, and Savigny. Still, I can't say the film is a good one. In fact I'd almost sway to the side of not recommending this to anyone, but I'm sure there are people who will be able to find the masterpiece that is hidden somewhere below the surface. I'm under the impression that it is there, I just couldn't find it. Maybe upon another viewing in the future, I will be able to. Hopefully. It really does have the Lynchian feel to it. Many scenes felt like they had his fingerprints all over them, and that really annoyed me. I don't know for certain that that is true, but just the thought of Lynch having any control over the end product makes me a little nervous. You should know that I really just don't like Lynch. I've seen many of his films and of the ones I've seen, I can only say I like Blue Velvet. So his involvement here just irks me, especially because it compromises the film in my opinion because I could see him wanting at least a decent amount of artistic control. I wish Herzog was the only name selling the film; I think it would have turned out better.
Melvin White
Super Reviewer
My Son, My Son, What Have Ye Done Quotes
There are no approved quotes yet for this movie.