My Tutor Friend (Donggabnaegi gwawoehagi)
(2003)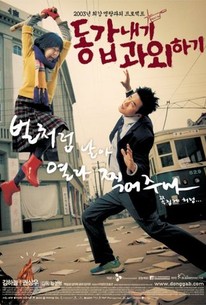 AUDIENCE SCORE
Critic Consensus: No consensus yet.
My Tutor Friend (Donggabnaegi gwawoehagi) Photos
Movie Info
Sophomore university student Su-weon (Kim Ha-neul) has been struggling with financing her education since she began her degree program, which has forced her to become a part-time tutor. In need of a new student since she was forced to quit her previous assignment with a group of sexually aggressive young men, Su-weon, with her mother's assistance, finds a new job working with the son of a rich acquaintance. The young man, Ji-hun (Gweon Sang-woo), has spent the last three years studying in the United States and -- due to his ambivalence toward his studies -- he has failed to graduate as a senior in each of those three years. For his part, Ji-hun would rather not have anything to do with his new tutor and attempts to scare her away. Meanwhile, Su-weon is just as determined to accomplish her objectives with Ji-hun, and as the two wage psychological warfare with one another, an unexpected friendship and romance begins to bloom. My Tutor Friend was a smash hit in South Korea upon its release in early 2003, topping the box-office charts for five weeks after its debut.
Critic Reviews for My Tutor Friend (Donggabnaegi gwawoehagi)
There are no critic reviews yet for My Tutor Friend (Donggabnaegi gwawoehagi). Keep checking Rotten Tomatoes for updates!
Audience Reviews for My Tutor Friend (Donggabnaegi gwawoehagi)
The story was generally about a rich rebellious guy named Ji-Hoon, who was still trying to finish high school, his parents hired a tutor named Su-Wan, a woman who came from a poor background. He fell for his tutor, some martial arts fights,a love-sick girl who is after him, his attempts for ditching the lessons, and you may generally guessed the whole story. It's a romantic comedy with some fight scenes, great visual humor and a lot of love spark, thanks to the good chemistry between Kim Ha Nuel and Kwon Sang Woo, that brought a lot of energy to the story. The romantic elements also worked because of that reason.It started slow and near the end it picked up a bit again. Overall, a funny, cute film..
Daisy Maduro
Super Reviewer
I watched the second movie first, and it was a real funny, yet fresh comedy so I wanted to see the first one because it's the original... The movie itself very funny, using the unusual story about a relationship between a tutor and their student, but not in an official way like in a school, college, university or something like that... Kim Ha-Neul and Kwon Sang-Woo played well as a couple in this movie, really gave a good show, especially Kim Ha-Neul, she's very funny... Actually, I think that they maybe can cut a little part of this movie because it's too long, especially in the middle, I get a little bored... But overall, it's a fresh and delightful Korean comedy... But I still love the second movie...
Sanjaya 丘耀文
Super Reviewer
My Tutor Friend (Donggabnaegi gwawoehagi) Quotes
There are no approved quotes yet for this movie.