Naqoyqatsi (Naqoyqatsi: Life as War)
(2002)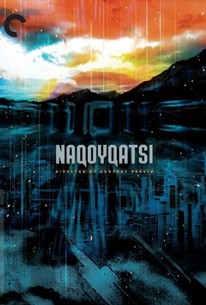 Naqoyqatsi (Naqoyqatsi: Life as War) Photos
Movie Info
Filmmaker, philosopher and activist Godfrey Reggio completes the film trilogy he began with Koyaanisqatsi and Powaqqatsi in this visually striking examination of the impact of technology upon our culture. Naqoyqatsi is a word from the Hopi language which roughly translates as "war as a way of life" or "a life of killing each other," and in this film Reggio uses a intense barrage of images - most of which have been drawn from existing film footage and then altered using a variety of optical and digital techniques - to express his belief that technology is no longer at war with nature. Instead, we have allowed technology to become the "nature" in which we live, and as it stretches our physical and emotional environment in new and troubling directions, we have created for ourselves a world of greater chaos, violence, and confusion. As with his previous features in this trilogy, Naqoyqatsi features an original score by Philip Glass, featuring cello solos by Yo-Yo Ma; director Steven Soderbergh, a noted admirer of Reggio's first two films, served as executive producer.
Critic Reviews for Naqoyqatsi (Naqoyqatsi: Life as War)
Audience Reviews for Naqoyqatsi (Naqoyqatsi: Life as War)
½
The final film in the trilogy, but it sort of suffers from the rule of diminishing returns, and the addition of computer graphics this time around sort of put me off completely. Rental?
Bill Bryant
The first two films in the trilogy worked because behind they focused on life and had meaning behind the imagry. This just feels like some pretentious film student founf a bunch of stock footage and figured out how to apply fancy color filters.
Joe Campbell
No More to Say, Even With Images To be honest, I shouldn't have watched this one yet, because I haven't seen the second one. However, given that the trio is not narrative in the strictest sense, I'm not sure how much difference it makes. It is also true that this trilogy is not the only one like it, a film of images set to music without a true storyline to it, and perhaps there are only so many of those you can watch if you do not actually yourself do drugs. However, if anyone is going to be interested in watching movies like this--and not being on drugs at the time--it ought to be someone with an appreciation of the music of Philip Glass, and I certainly meet that requirement. It is sadly true that, for most of the film, I gave up paying attention to what images were flickering across the screen in favour of instead reading and listening. Writer-director Godfrey Reggio may have had a lot to say, but I think this film is best summed up by the fact that there's a feng shui artist credited. Once again, our title comes from Hopi; my familiarity with these films leads me to believe that "qatsi" is Hopi for "life." At any rate, the premise of this film rather seems to be that the way of the modern world is a life in conflict with one another and with nature. I admit that I'm reading a lot into a series of images set to music. There are no words in the entire thing except credits and the title card defining "[i]naqoyqatsi[/i]" for us. However, I think it's extremely significant that a film released in 2002 would show us, in a collection of spinning corporate logos, the Enron logo. That cannot be a coincidence, given that I doubt most people had even heard of Enron before it collapsed in such a spectacular fashion. Come to that, it is a film wherein there are spinning corporate logos followed by spinning symbols of various religions and not that far off in the film from images of mushroom clouds. Seeing this, I am even more certain that Reggio is no fan of modern life. This one, unlike [i]Koyaanisqatsi[/i], does show lingering images of people we know things about. There is a lengthy stretch, for a film of this nature anyway, where we are shown studio portraits or perhaps wax figures of various historical figures. (One is Abraham Lincoln, which is why I think possibly wax.) When we stare into the face of Fidel Castro, it is impossible not to put him into historical context. Yes, there is recycled footage from World War I--indeed, I think there is quite a lot more stock footage in this one than Reggio would like us to consider--but quite a lot of the focus seems to be on celebrity culture and the pervasiveness of corporations. Which, okay, I have ranted about a time or two myself. However, I think there's a bit much of it, and I missed the extravagance of nature from the first one. Honestly, if a film with no plot or dialogue could be said to be preachy, this one was definitely it. I am also less than pleased with how manipulated the images were. I have recently discovered a piece of software that is basically a free version of Photoshop, and I've been playing around with its tools. However, my primary consideration in manipulating my own photographs is that they [i]not[/i] turn out like much of this film, where you are far more conscious of the processing than the pictures. That, and I mean, how many images of mushroom clouds, manipulated or not, does one film really need? Practically all the manipulation of the first film was speeding things up, showing the shadows of clouds rushing across the deserts of the American Southwest and so forth. By 2002, it seems that was not enough, and there was this drive to keep it seeming modern. But as we all know, the more work you put into making something look modern, the more dated it will look even as little as five years later. This was ten years ago, but it would not have surprised me to find out it was older than that. Oh, I'll still get the second one, when I get to it. (You guessed it. I didn't do them in order because their names are not in alphabetical order.) I'm curious as to which of the first and third it most resembles. Maybe it will even turn out to be a steady decline, which would be interesting. Certainly I can't compare it to any of the director's other films, because these are pretty much the only features he has ever made. I could take the time to look and see what else he's done, because of course you can't coast that long on a mere three films. Even Terrence Malick has done more than that! And of course, I'd still be interested in getting the score, because Philip Glass is still one of my favourite composers. There are even a few minutes where I was captivated by the imagery--there is swirling smoke at one point that was simply lovely, until those blasted corporate logos appeared. I just can't help wondering if what Reggio had to say was all said with [i]Koyaanisqatsi[/i].
Edith Nelson
Naqoyqatsi (Naqoyqatsi: Life as War) Quotes
There are no approved quotes yet for this movie.
Discussion Forum
Discuss Naqoyqatsi (Naqoyqatsi: Life as War) on our Movie forum!