Nearing Grace
(2005)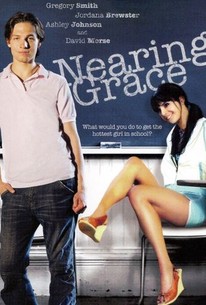 Movie Info
A teenage boy tries to hold his family together while the girl of his dreams drives him to distraction in this coming-of-age comedy drama. It's 1978, and Henry Nearing (Gregory Smith) and his family are in a state of flux. Henry's mother has died, and now his father, Shep (David Morse), is trying to find himself by quitting his job, buying a motorcycle, and growing out his hair. Henry's brother, Blair (David Moscow), is similarly trying to expand his boundaries by dating a free-spirited girl and experimenting with drugs. Henry, meanwhile, is just trying to get through high school, but a certain girl is making that difficult for him. Grace Chance (Jordana Brewster) is a pretty girl in Henry's class who enjoys wrapping boys around her little finger; it doesn't take long for her to notice he's smitten with her, and she begins flirting with him and getting him to do whatever she wants, even though she already has a boyfriend whom she has no intention of leaving. Meanwhile, Merna (Ashley Johnson), a cute girl who lives nearby, has a crush on Henry and is clearly a better match for him, but she can't get him to notice her, even after she starts dating an older boy to make him jealous. Nearing Grace received its world premiere at the 2005 Los Angeles Film Festival.
News & Interviews for Nearing Grace
Critic Reviews for Nearing Grace
Audience Reviews for Nearing Grace
½
It's easy to call a film cliche, but if that film represents a vision that the filmmaker has always wanted to realize, it's not really fair to dismiss the movie just because someone else got there first. Family dramas often feel the most cliche, because we all live in them everyday. I don't deny that some parts of the film are predictable, but many more are strikingly original and honest - and those are the ones that you'll remember. All of the performances are quite excellent.
Cynthia S.
Super Reviewer
½
A Some Kind of Wonderful-esque love triangle that doesn't quite resolve as cleanly as you'd expect. Gregory Smith was adorable in Harriet the Spy way back when, but now, he exhibits the puckish naturalism of a young Jean-Pierre Leaud, the smoldering looks of James McAvoy, and the dead-eyed complexity of a hit-not-miss Daniel Radcliffe. The movie is sexy, life-affirming, philosophical, wry - a little bit too ambitious for that matter - but nevertheless, a bittersweet bildungsroman.
Alice Shen
Super Reviewer
Leigh Ryan
Super Reviewer
Nearing Grace Quotes
There are no approved quotes yet for this movie.