Nekromantik
(1987)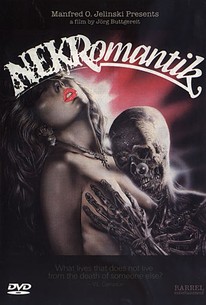 Movie Info
With Nekromantik, first-time feature director Jorg Buttgereit mixes cheap gore, transgressive imagery, and cosmic dread into a cult-classic examination of sex, death, and boredom among the youth of pre-reunification Germany. Passive, blank-faced Rob (Daktari Lorenz) spends his days collecting human roadkill from the side of the Autobahn and his nights enacting a quietly macabre domesticity with girlfriend Betty (Beatrice Manowski, credited here as Beatrice M.) in their autopsy/industrial/Nazi-themed apartment. One day Rob delights Betty by bringing home a decomposed corpse dredged from a swampy roadside lagoon; with a sawed-off bedpost in place of its rotted genitalia, the body serves alternately as a vile wall decoration and the third member of a grotesque and quite graphic ménage à trois. When Rob loses his job, material girl Betty hoofs it, and her divorce settlement includes the couple's favorite sex aid. An alienated Rob soon turns to horror movies, animal torture, prostitutes, and graveyard sex in his quest to find the unique combination of utter degradation and total acceptance he shared with his one true necrophile love. Meanwhile, the haunting image of a rabbit being skinned plays like a cartoon in the young man's imagination, perhaps a childhood memory, perhaps an existential dream. Ultimately, this slaughterhouse motif leads Rob to enact a painfully final solution to his deadly eroticism; his journey would nevertheless continue in Buttgereit's Nekromantik 2 a few years later. Although it received its German premiere in 1988, work on Nekromantik started in late 1986, when Buttgereit, the veteran of several shorts, began fashioning the corpse that would figure so heavily in the story; the director knew that without a realistic-looking prop, the project wouldn't be worth filming in the first place. As Nekromantik's cult following grew slowly in Germany, then abroad, rumors abounded that the filmmakers had used actual dead bodies during the shoot. In fact, the film's main corpse was largely synthetic, although real pig eyes from a slaughterhouse filled its sockets -- and, in some scenes, the characters' mouths. Manowski would go on to appear in Wim Wenders' Wings of Desire, while composer/co-star Lorenz would largely give up acting in favor of his musical activities, which included several more collaborations with Buttgereit. ~ Brian J. Dillard, Rovi
Critic Reviews for Nekromantik
All Critics (6) | Fresh (3) | Rotten (3) | DVD (1)
Atípico o bastante para merecer ser conferido.
April 6, 2005 | Rating: 3/5
Interesting idea for a horror film, but ugly and unpleasant.
July 14, 2003 | Rating: 0/5
The film, if you can call it that, actually goes beyond the state of bad taste into a shameful, meaningless, extreme realm all its own.
Audience Reviews for Nekromantik
As a horror fan, I am always looking for the next great shock fest. I often hunt down obscured titles that are hard to find and tend to push the envelope. I have seen my fair share of shock horror, and I personally feel that Nekromantik is the most depraved film that I have ever seen. There is not a single shroud of artistic talent that went into making this film. The objective of the film was to shock, and it most certainly did that. This is a morally reprehensible piece of crap that never should have been made. I've seen my fair share of bad movies, but this one is one of the worst. Poorly acted, with emphasis on a highly controversial subject and a tasteless plot that lacks in every manner, this is a film that makes even the British Video Nasties look Tame in comparison. Director Jörg Buttgereit goes for shock value, and he gets it. I absolutely hated the film, and it doesn't offer anything worth seeing. The plot was awful, and the film looked bad as it was shot on a Super 8 format, which I think it was. Buttgereit is a director with no talent to speak of, and if he tried to use his film as a social commentary, he failed. With Nekromantik he explores the most disturbing side of human perversion, and you ask yourself why the hell would anyone make a film like this? I'm a fan of Exploitation films, and I do enjoy shock cinema, but this goes beyond poor taste. I can't understand why anyone would call this a masterpiece, as it is truly the most tasteless film in the history of the medium. This is supposed to be an "art house" film, well it isn't. The film is vile trash that simply doesn't entertain. There's a reason why films like this are obscured, and they should stay that way.
A necrophiliac loses his job and grilfriend amidst randomly inserted shock scenes of urination, decay, sexual violence and (real) animal cruelty. Virtually no plot or characterization, and rudimentary cinematography; submitted as a student film without the grossout scenes, it would probably get a D-. Insert audacious---but ludicrous---scenes of a woman making love to a corpse, and it suddenly becomes a classic in some quarters.
½
First off, I didn't really "like" this film. But, when a film is filled with necrophilia, animal killings, eye-ball sucking and worse, I doubt it was ever meant to be liked. If anything Nekromantik sees how far it can push us. I never felt comfortable, which makes me glad. It's rather well made and is smart and merciful enough to keep things short. The infamous threesome is disgusting and hilarious at the same time. The excellent use of music presents it as an actual love scene and "normal". Actually the music was the first thing to stick out. It's unpleasant, dirty, foul and sickening. Unlike, films such as Hostel, it doesn't glamorise any of the things it presents.
Luke Baldock
Super Reviewer
Nekromantik Quotes
There are no approved quotes yet for this movie.