Nenette
(2010)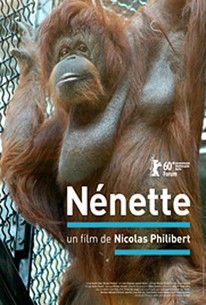 Movie Info
She's a 40-year-old longtime Parisian, with an unruly mop of red hair and soulful, close-set dark brown eyes. Nénette is introspec- tive, perhaps melancholic, but beloved by those who visit her daily. After "having worn out three husbands" and given birth to four children, she's convalescing from major surgery, and looks forward to life's simple pleasures, like tea and yogurt at 4:30 each afternoon. Nénette is an orangutan in the famed Jardin des Plantes Exotiques zoo, and acclaimed documentarian Nicolas Philibert (TO BE AND TO HAVE) captures her day-to-day routine in this charming, poignant and wonderfully funny portrait. She's one of our closest relations -- the one with an enviable chunk of Paris real estate to call her own. 600,000 people file past Nénette's cage annually: admiring her, commenting on her appearance, wondering what her deepest thoughts may be, speculating on whether she misses the forests of Borneo where she was born in 1969. Anyone who has ever indulged themselves at the zoo by watching a favored animal for an extended period of time -- observing its daily routine, its whims, and personality traits - will get a huge kick out of NÉNETTE.-- (C)
Critic Reviews for Nenette
Audience Reviews for Nenette
This documentary about an elderly orangutan both benefits and suffers from being composed solely of shots of the apes from outside their cage. It both humanizes and distances us from the apes. The flat visual style is distracting from the apes' inherent beauty. By only shooting the apes from outside the glass mostly from the same angle, it puts a strange distance between subject & audience.
Matthew Lucas
Super Reviewer
Nenette Quotes
There are no approved quotes yet for this movie.
Discussion Forum
Discuss Nenette on our Movie forum!