Neo Ned
(2005)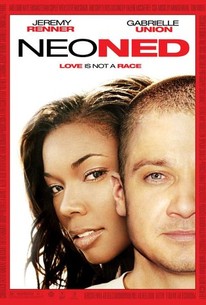 Movie Info
Ned (Jeremy Renner of Dahmer) is a proud member of the Aryan Brotherhood who has been admitted to a mental institution for his involvement in a racially motivated murder. Dr. Magnuson (Cary Elwes) and Johnny (Ethan Suplee) have trouble keeping Ned in line. Boisterous and belligerent, he's prone to childish tantrums when things don't go his way. Still, the other inmates, like Joey (Eddie Kaye Thomas) seem to look up to him. Ned's life at the facility is upended with the arrival of Rachael (Gabrielle Union of Bring It On), a beautiful young black woman who's brought in shouting German, and seems to believe that she's possessed by the spirit of Adolf Hitler. At first, Ned mocks her, and attempts to provoke her, but soon, his feelings toward Rachael turn surprisingly tender. Eventually, Ned and Rachael open up to each other, revealing the past traumas that left them in such a screwed up state. Ned, still reluctant to give up the accoutrements of skinhead life, tells Rachael about his imprisoned father and his unhappy foster care experiences, and Rachael tells him about being sexually abused, and reveals that she has a young daughter. When Ned is released from the hospital, he convinces Rachael to leave with him, but the couple finds life together on the outside difficult. Neo Ned also stars Steve Railsback and Sally Kirkland. It was written by Tim Boughn and directed by Van Fischer (Blink of an Eye, aka Urban Jungle). It had its world premiere in the Narrative Feature Competition of the 2005 Tribeca Film Festival.
Critic Reviews for Neo Ned
Audience Reviews for Neo Ned
Neo Ned (Van Fischer, 2005) A fun if forgettable little film that is saved from Lifetime Original Moviedom solely by well-above-average performances by the two leads, The Hurt Locker's Jeremy Renner and 10 Things I Hate About You's Gabrielle Union. Renner plays the title character, a goofy, happy-go-lucky neo-Nazi (yeah, I was wondering about that too) at the opening of the film who is forced to question his beliefs when he finds himself falling for African-American hearttthrob Union. Despite her better judgment, she returns his affection, and the two of them set out to see if they can make a life for themselves despite their obvious fractured beginnings. It is very rare to see white power played for laughs, and any director who's going to attempt it has to be prepared to walk a very fine line; I get the feeling that's one of the reasons why this movie never went much of anywhere, but it seemed to me Van Fischer (Blink of an Eye) did a pretty good job with that aspect of the film, using the comedy aspects of it to keep the movie light while it strayed into some very dark places. It lacks subtlety in a lot of areas, and it pays lip service to American History X a time or two without ever approaching the depth or gravity of that one. Still, as a lightweight and surprisingly funny film about the redemption of a white-power skinhead, well, it would be pretty hard to do better, if only because it has been so rarely done before. ***
Robert Beveridge
½
A neo Nazi in a mental institution falls in love with a black chick in a mental institution. How does that work out?
Sue Smith
In spite of its technical weaknesses (which brought this movie down for me a bit) this is still a really good movie with a good story and some strong performances. I don't think it goes as deep as it should into the complexities of a neo Nazi dating a black woman, they just really gloss over it. Maybe they were going for a lighter tone, if so, I can understand that...since this is a movie about the ability for people to change their ways, so in that regards it's acceptable. The weaknesses mostly go to the look of the film. It does look like a very low-budget movie, but they make the most with what they had so I can't fault it that much. There's also some iffy pacing near the middle of the movie. But the movie makes up for it with heart and great acting, especially by Jeremy Renner. He definitely always gives it his all, no matter what. The ending is also pretty damn great and sweet and almost added half a star to the movie. So overall, while it has some glaring technical issues, this is a really good movie that, unfortunately, not enough people will get to see. But it is on netflix, so if you have it...go watch it.
Jesse Ortega
Super Reviewer
Neo Ned Quotes
| | |
| --- | --- |
| Ned: | Maybe we can keep in contact after the revolution. |
| Rachael: | What are you talking about? |
| Ned: | You know, keep in contact after the war. After the whites get their own nation. |
| Rachael: | You already have your own nation. |
| Ned: | We can write letters! i'm sure there's gonna be mail delivered between the quadrants. Heck, maybe we can even visit each other. |
| Rachael: | Just so I understand...um...you wanna have a war to divide up the country, in order to keep blacks away from the whites, then sneak across the border and meet me for coffee? |
| | |
| --- | --- |
| Dr. Magnuson: | Ned, what you're doing is unsafe. Put. down. the toaster. |
| Dr. Magnuson: | Ned, what you're doing is unsafe. Put. Down. The toaster. |
| | |
| --- | --- |
| Rachael: | I've gotta go home. |
| Ned: | This is your home. This is our home. |
Discussion Forum
Discuss Neo Ned on our Movie forum!