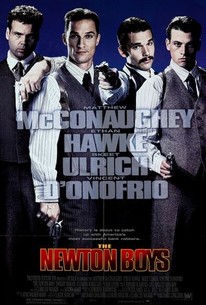 The Newton Boys
1998, Crime/Drama, 2h 2m
40 Reviews
10,000+ Ratings
What to know
critics consensus
The Newton Boys uses a sharp cast and absorbing period detail to help make up for the frustrations of a story puzzlingly short on dramatic tension. Read critic reviews
Where to watch
Rent/buy
Rent/buy
Rent/buy
Rate And Review
Movie Info
Seeking an escape from poverty, sibling Texas farmers (Matthew McConaughey, Skeet Ulrich, Ethan Hawke) gain notoriety as daring 1920s bank robbers.
News & Interviews for The Newton Boys
Audience Reviews for The Newton Boys
Early in his career, director Richard Linklater crafted this true story about brothers who rob banks and trains back in the 1920's. For Richard Linklater, who is best known for his slow character dramas, this felt like one of his weaker efforts to say the least. Starring Matthew McConaughey, Ethan Hawke, and Vincent D'Onofrio as the most notable leads, this film follows these brothers from town to town as they try to stay hidden while increasing their loot. With love, lust, and bad decisions, this film has many elements that would make for a great film. Is this a great film? Sadly no, but it does have promise, and that is what I am going to talk about here. "The Newton Boys" helms a very lengthy script, not that it is too long, but the slow pace makes the film feel much longer than it's two hour run time. That being said, films can still be great when that happens, they just have to have exciting sequences and relatable characters to back it up. For the most part, it does have that, due to it's likeable cast and intriguing story. These men never kill and that is what humanizes this story. I loved watching portions of this film, mainly due to the banter written by Linklater, but in the end, it is a very forgettable picture that seems too caught up in it's characters, rather than the way it affects the towns they harm. In the end, I enjoyed watching this film for what it was, but I think a property like this could have been better in different hands.

This film's title sounds either like some sort of a classic pop band or something to that effect, or, well, a cue for a narration by Waylon Jennings. "Looks like them Newton boys have themselves in a whole heap o' trouble". I joke, but this film does see Richard Linklater finally cutting back on kissing Austin's liberal feet and working on embracing more rural parts of Texas, even though he's still far from Hazzard County, Georgia. Well, this film's cast is so modern Texan that it stars Matt McConaughey and, even worse, Ethan Hawke, so that might make up for the moderate de-Austinification. Shoot, if nothing else, this film's cast shows that Linklater, by the end of the '90s, was starting to cut back on the no-names and get some big stars, which would be great and all if this film actually got any money. I find it interesting that people found Linklater's previous films about various kinds of bums walking and talking about whatever interesting enough to make them solid box office successes, yet when Linklater does something interesting, like telling the true story of bank robbers, hardly anyone goes... probably because this film isn't as exciting as one might expect. No, it's a little livelier than plenty of Linklater's other affairs, but entertainment value is limited, no matter how much the film tries to fluff things up, perhaps too much. His directorial influence obviously filtered through commercialization of the magnitude he hadn't seen up until this time, Richard Linklater cannot overshadow moments of overt fluff that cheese up the lighter aspects which, quite frankly, are perhaps a little too prominent in this dramatically promising opus, yet when Linklater does work in drama, he sustains the fluff and joins his and Clark Lee Walker's unsubtle dialogue to establish a sense of melodrama that superficializes depth. Such depth is superficialized enough by such other writing shortcomings as lacking characterization, which not only thins out the layers that could have been abundant in this character study, but focuses a touch too intensely on only a few primary characters, while leaving supporting roles that could have enriched the plot to feel as though they're placed much lower in priority than they ought to be. Linklater and Walker, as screenwriters, give you only so much to chew on in this ostensibly layered ensemble piece, and when they actually try to expand focus, it jars, forcing shifts between fluff and weight, despite a consistency in cheesiness, when not dropping the ball when it comes to organically flowing along the plot layers. The film has a lot of material to cover, and when it's not disregarding some of its depths, it's juggling the layers a little unevenly, and yet, as much as the film proves to be too tight for comfort in certain places, it's still too long, meandering enough along repetitious filler and excesses in material to drag its way to its two-hour runtime, only to end up going places that are expected. As if the overplaying on humor and superficial dramatics and characterization aren't reflective enough of this film's being too commercial for its own good, the final product hardly does anything new as a bank-robbing gangster period flick, thriving on stereotypical characters, formulaic plot beats and altogether a plethora of tropes, until, even if you're somehow not aware of the story of the Newton Gang, predictability stands firm. Not much is new in this film, which therefore has only so much worth remembering, for although there's plenty of inspiration, the laziness to subtlety, depth and structuring help in crafting a film that isn't engaging enough to endear as thoroughly as one might hope. Regardless, the film endears adequately, sometimes pretty solidly, being pretty entertaining, and even handsome. Trying to put a little more scope to a once-intimate visual style, Richard Linklater doesn't utilize his trademark smooth framing and trademark tracking shots that much in this film, but Peter James' cinematography makes up for visual style limitations with well-polished coloration and warm lighting which, while not too attractive during darker scenes, catches your eyes often, though not as consistently as the art direction whose handsomeness goes augmented by the visual style. Yes, as a tribute to some of the more then-modern Texas landscapes of the 1920s, this film goes all out in distinguishing its setting, thus, art directors Andrea Dopaso, John Frick and Randy Moore go all out in making the visuals of the period appealing in their near-intricate distinctiveness, if not aesthetic quality. Style is there, and when it comes to substance, the film falls short when it comes to doing justice to an interesting portrait on the struggles of and dynamics between the blood-bound members of the Newton Gang and their peers, but not too short, because as questionable as Clark Lee Walker and Richard Linklater are in their writing a rather superficially characterized and dramatically uneven script, dialogue is generally sharp enough to amuse, and heavier aspects are genuine enough, or at least hearty enough in their ambitious melodrama to bite. In concept, the narrative gets juicier and juicier as it progresses as a character study, but as irony would have it, the execution gradually loses steam the more you get used to the faulty writing, yet there's enough momentum throughout the final product to keep you engaged by a decent script, in which there is enough material to at least inspire some decent performances. Now, dramatic material is certainly lacking, but this solid, almost all-star cast delivers as best it can, with leading man Matthew McConaughey particularly standing out with his charisma, at least until heavier dramatic spots come into play and allow McConaughey's peers to match him in emoting that is solid enough to encompass the meat that can indeed be found through all the superficialities of this light drama. The onscreen talent does what it can and delivers consistently, whereas the offscreen talent carries lazy spots, in addition to ambitious spots that fall short, and yet, the film still comes to the brink of rewarding, largely on the back of ambition's being met with inspiration in direction by Linklater that is held back, either by the producers or by Linklater's not having too much conviction to transcend the producers' superficial tastes, but well-paced enough to keep entertainment value adequate, if not with steady moments that prove effective in drawing on the limited depths of this drama, and providing glimpses into what could have been. What ultimately is in this project is an underwhelming effort that betrays potential, which still stands clear enough in view for the final product to entertain and often engage as a borderline, if only "borderline" rewarding affair. Bottom line, cheesy spots in humor and melodrama, superficiality to characterization, inconsistency to tone and pacing, and an overall lack of originality leave the film to limp out as underwhelming, while inspiration to handsome visual style, distinguished art direction, charismatic performances and sharp highlights in writing and direction secure Richard Linklater's "The Newton Boys" as a plenty entertaining and almost plenty compelling period biopic, despite its superficiality. 2.75/5 - Decent

The story is absolutley fantastic, and the acting is surprisingly good considering most of the actors in the film wouldn't have been my first pick to play bank robbers from the 20's. But they work very well together, and it is a lot of fun to watch.

An ok watch about a true band of brothers back in the 1920's who robbed many banks. The acting is competent, but the story seems to lack any authentic dramatic impact. The most interesting part to me was the epilogue that detailed the fates of each character as well as the interjecting of interviews with two of the real newton brothers.
See Details