Next Day Air
(2009)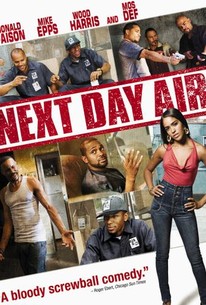 Movie Info
An overnight shipment of drugs winds up being sent to the wrong recipient, prompting a frantic race to recover the package before the contents are discovered in this fast-paced crime comedy starring Donald Faison, Mos Def, and Mike Epps. When Brody (Epps) and Guch (Wood Harris) received package containing 10 kilos of grade-A cocaine, they assumed their financial woes were a thing of the past. The package was intended for their Brody and Guch's next-door neighbors, but the whacked-out courier (Donald Faison) delivered it to the wrong address. Recognizing the possibility for profit, the scheming duo plans to sell the cocaine to Brody's drug-dealing cousin (Omari Hardwick). Meanwhile Jesus (Cisco Reyes) and his girlfriend Chita (Yasmin Deliz), the intended recipients of the cocaine, set out to procure the package before notorious drug lord Bodego Diablo (Emilio Rivera) realizes it's gone missing. But Bodega is no slouch; he already knows the shipment was botched, and he's determined to get his drugs back no matter what the cost. Later, as Brody and Guch prepare to seal the deal that will set them up for life, the guns are drawn and the chaos begins.
People Who Like this movie also like
News & Interviews for Next Day Air
Critic Reviews for Next Day Air
Audience Reviews for Next Day Air
½
There is nothing terribly original about the plot, situations, or characters in this film. It all comes off like a specifically ethnic take on the works of Quentin Tarantino, Elmore Leonard, or Guy Ritchie. For those reasons, I should probably give this thing 2.5-3 at best. However, I'm giving this a mild recommendation anyway. I am doing this because, as unoriginal as this is, it is still wildly entertaining, pretty funny, and just a wacky crime caper. Roger Ebert was right to call it a bloody screwball comedy. Besides, the casting is pretty good, and their performances are not bad either. The film doesn't bullshit with the pacing, there's a lot of energy keeping things afloat, and the big setpiece at the end is pretty solid. Give this a chance. It may be warmed over b-footage from much better films, and despite that backhanded compliment, it somehow ends up better than it should be. For what it is, it's fine enough. God knows it could be a lot worse.
Chris Weber
Super Reviewer
I actually kind of liked this movie. It was kind of boring in some parts but it gets really entertaining in the last 20 minutes. It was also a lot funnier than i thought it would be. It's not really funny or hilarious but it has its moment. I liked it a lot more than i expected too. It's not a great movie but i thought it was good. B-
Next Day Air is one of the more underrated films in 2009. That doesn't mean it's a masterpiece, but it was highly entertaining. It's like an African American Guy Ritchie film. The plot centers around a large package of cocaine that is wrongfully delivered to a couple of wanna-be gangsters/drug dealers. Hilarity ensues as the package's owner tries to recover his goods which follows a twisty plot and ends in an epic standoff.
This is by no means the greatest film of the year, but it's definitely a fun and entertaining rental.
Next Day Air Quotes
There are no approved quotes yet for this movie.